Panasonic Eco Solutions North America hosts expert panel to discuss indoor environmental quality in residential construction at Greenbuild
NEWARK, N.J., Nov. 12, 2013 -- Panasonic Eco Solutions North America is celebrating 20 years of successful industry firsts and innovation at Greenbuild 2013. To commemorate the milestone, Panasonic will be hosting a panel event to discuss the future of ventilation and emerging codes and standards for indoor environmental quality in residential construction on Wednesday, November 20 from 4 p.m. to 6 p.m.

The panel will consist of industry experts including Mark LaLiberte, one of the nation's foremost building scientists specializing in ventilation requirements; Marc Zulugga, vice president and director of Steven Winter Associates' Multifamily Energy Services and technical advisor to the Mayor's Office for Sustainability and Long Term Planning in New York City; and Don Stevens, national research manager for Panasonic Eco Solutions, and chair of the Home Ventilation Institute and author of ASHRAE's Standard 62.2. It will be moderated by Rick Schwolsky, Editor-At-Large for EcoHome magazine
"Our 20th anniversary milestone recognizes our industry foresight and commitment to innovation," said Jim Shelton, Director of Sales & Marketing for Panasonic Eco Solutions. "Twenty years ago, we led the way with trailblazing ventilation technology from the first ENERGY STAR rated fan, to revolutionary energy efficient DC motors, to our energy-efficient LED lighting. We intend to continue this progressive stride towards influencing green building trends for the next 20 years and beyond."
Panasonic ventilation fans are known for providing builders and contractors with the complete package in performance, quality, and energy efficiency for residential single, multifamily, and manufactured homes. The products, which will be on display at Greenbuild in booth #1024, have evolved over the past 20 years to adapt to builder and remodeler needs and surpass building and energy code standards, setting them apart from competitors.
The focus on indoor air quality stems from today's building codes that drive the need for mechanical ventilation in modern airtight, energy-conscious construction. Green building and indoor air quality standards now require ventilation products to not only meet American Society of Heating, Refrigerating and Air-Conditioning Engineers (ASHRAE) Standards but to meet installed performance guidelines as well. Panasonic fans offer unrivaled installed performance and help assure you're meeting designed airflow requirements. This reduces the need for costly replacements and ensures the fan operates at maximum capacity for ultimate indoor air quality.
Panasonic ventilation fans are ENERGY STAR® rated where guidelines exist, HVI certified and can be used to comply with ASHRAE Standard 62.2, the ventilation platform adopted by LEED for Homes, ENERGY STAR 3.0 Indoor Air Quality Program, CalGreen and California Title 24.
For more information about Panasonic ventilation fans, please visit www.panasonic.com/ventfans.
About Panasonic Eco Solutions North America
Panasonic Eco Solutions North America is a division of Panasonic Corporation of North America, the principal North American subsidiary of Panasonic Corporation.The company develops and provides customized and integrated technology-based energy solutions for customers in both the public and private sector.
Panasonic is pledged to practice prudent, sustainable use of the earth's natural resources and protect our environment through the company's Eco Ideas programs. Panasonic was the only Consumer Electronics company to be listed in the top ten brands on the Interbrand Best Global Green Brands 2011 ranking. Follow Panasonic on Twitter @panasonicdirect; additional company information for media is available at www.panasonic.com/pressroom.
Featured Product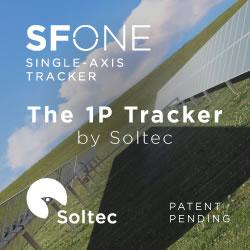 Soltec manufactures and supplies solar trackers designed and proven for extreme climate conditions, which is an ideal solution for any region's environment. Soltec's trackers are self-powered, requiring no additional PV module or grid-powered connection. Bifacial modules collect energy on both the front and rear sides, capturing reflected irradiance from the ground surface under and around the tracker and from other modules. Depending on site conditions, bifacial yield-gain can reach +30 percent.