Spot polysilicon traded inside of China is limited since many already have long term contracts to fulfill while demand for 2nd grade polysilicon stays constant.
PV grade polysilicon experiences moderate price drop this week while 2nd grade poly price remains stable. Polysilicon traded outside of China is still under $17/kg without obvious shortage. Spot polysilicon traded inside of China is limited since many already have long term contracts to fulfill while demand for 2nd grade polysilicon stays constant. With some inventory on hand, polysilicon price is difficult to have any further price improvement.

Overall module price drops moderately this week. Module demand and pricing in China remains robust with project developers rushing into PV installation before yearend. However, some price cut occurs in EU and Japan that negatively impact overall module price level. In EU, non-Chinese module players cut prices to attract more orders without the minimum price floor requirement like that of their Chinese counterparts. On the other hand, Chinese module makers continue cutting prices in Japan to gain market share. The competitive pricing strategy from Chinese companies pressures other companies in the Japanese market to follow the price cut. Therefore, overall module prices drop this week when downstream demand remains rather constant.
Solar cell also experiences some price drop this week influenced by the dropping Taiwanese cell price. Demand in China remains robust as most cell capacities are fully booked. As such, cell price remain rather stable in the country as newly made transaction is limited. However, Taiwanese cell companies are facing increasing price cut pressure as they maintain high utilization when order uncertainty looms. US demand is dropping due to the approach of the holiday season that negatively impacts the demand for Taiwanese cells from Chinese solar companies. As such, in order to secure more orders until yearend, Taiwanese companies are willing to cut prices when they can still make profit despite the price drop.
Multi wafer price is able to moderately rise this week due to the price increase in Taiwan. Taiwanese wafer companies raise their prices to reduce their loss as they see some cell companies start making profit in Q3. In addition, major wafer company sets pricing strategy that under certain price threshold the company would not make the sale. As such, all Taiwanese companies follow the price raise. The multi wafer prices in China remain rather stable as many wafers are already booked in advanced under the robust demand in the country. On the other hand, mono wafer demand is squeezed by the robust multi wafer demand in China that pressures the mono wafer price.
Featured Product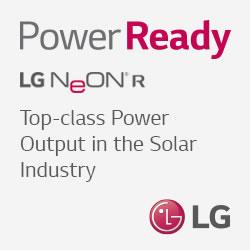 The NeON R module features "Back Contact" cell technology delivering an entirely black panel that is aesthetically pleasing and energy efficient. The cell's seamless, surface blends perfectly into nearly all rooftop designs while the module's electrodes are positioned on the rear of the cell. Using LG's N-type cell structure, the panels produce 365W of energy, up to 7.3kWp, compared to 5.8kWp of the p-type cell. The module's new design minimizes LID, thereby delivering a longer lifespan and increased energy output.