Storage System for a Solar Application Will Be Installed by Year-end
NEW CASTLE, Pa., Nov. 13, 2013 -- Axion Power International, Inc., (OTC QB: AXPW), the developer of advanced lead-carbon PbC® batteries and energy storage systems, announced today that the Company has received a purchase order, along with a substantial down payment, for a PowerCube™ to be commissioned into a solar project. The Cube will provide storage for energy created by the solar panel system and also service the frequency regulation market. The $320,000 purchase order includes batteries, racks, wiring, data communication system and electronics coordination (electronics and power system to be provided by Owner). The project has been in the works for some time and the Company expects to ship all equipment to the site in the current quarter of 2013, with installation to begin immediately.

Axion's PowerCube has proven its effectiveness and reliability by providing daily frequency regulation and demand response services in the PJM grid utility network for the last two years. PJM is the nation's largest power transmission organization serving more than 58 million people in all or parts of 13 states. The solar storage adaptation of the PowerCube was developed with data extracted from the PJM network model, including the important "frequency regulation market" component.
Axion Power Chairman and CEO Tom Granville noted that inquiries on PbC-enabled energy power systems and the PowerCube have increased substantially in the last several months from potential customers throughout the U.S. and from island nations in the Caribbean. In the islands, and in other offshore territories, renewable energy has become increasingly important because the grid - where it is available - is not always reliable, and fossil-fuel generated energy has continued to rise in expense, and has continued to pollute the environment.
Granville added, "This solar initiative is exactly the kind of application we have been targeting since we first introduced the PowerCube. We have also been working toward an ongoing strategic relationship with both the developer and the end user of this initial solar system. The integration of our PbC batteries, with their unique proprietary properties, has enabled us to offer an energy storage system that, when combined with solar, exhibits a very attractive R.O.I. We have been working with several other renewable energy developers, and that work runs the gamut from 'early stage' to 'near shovel in the ground'. We look forward to announcing some of these additional initiatives in the near future."
About Axion Power International, Inc.
Axion has developed and patented a next generation energy storage device that won the prestigious Frost & Sullivan Technology Award for North America in the field of lead-acid batteries. According to Frost & Sullivan, Axion's new PbC® batteries have "the potential to revitalize the lead-acid battery industry by breathing new life into an established technology that has not been well suited to the requirements of important new applications like hybrid electric vehicles and renewable power."
Axion Power International, Inc. is the industry leader in the field of lead carbon energy storage technologies. Axion believes its new PbC battery technology is the only class of advanced battery that can be assembled on existing lead-acid battery production lines throughout the world utilizing Axion's proprietary activated carbon electrodes. Axion's future goal, after filling their plant's lead-carbon battery production capacity, is to become the leading supplier of carbon electrode assemblies for the global lead-acid battery industry.
For more information, visit www.axionpower.com
Featured Product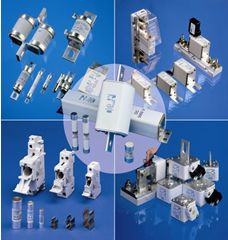 SIBA Fuses: your trusted source for all your circuit protection applications, from solar power to wind power. We are the world leaders in these applications and the most trusted name for your circuit protection needs. We have been working for over 70 years in semiconductor fuses, including ULTRA RAPID®, medium, and high voltage, standard European, miniatures, electronic fuses, and a wide range of DC rated fuses (24 VDC - 5000 VDC) for all types applications. We work with medium and high voltage fuses for protection of transformers, including submersibles, motors, medium and high voltage switchgear, compact substations, cable feeders, and high voltage capacitor circuits. New: Full line of PV UL Listed fuses and fuse holders. Contact us today for more information on our products and services.