Global Smart Grid stakeholders convene, advancing power grid interoperability
ATLANTA, Ga. – November 13, 2013 – The Smart Grid Interoperability Panel (SGIP), a member-funded organization that engages Smart Grid stakeholders to accelerate standards harmonization and advance interoperability, hosted its Inaugural Conference: Progress through Collaboration, Nov. 5-7 in Palm Beach Gardens, Florida. Bringing together Smart Grid stakeholders from all domains of the energy ecosystem, attendees discussed the orchestration of the standards that critically impact, enhance and accelerate the deployment of a smarter grid. New tools and processes for standards harmonization were unveiled, international partnerships were formed and new standards frameworks were advanced.
"The conference was a content-rich gathering, drawing some of the most brilliant influencers in the Smart Grid industry," said Patrick Gannon, executive director and president, SGIP. "Not only were the plenary sessions and keynotes insightful, but much progress was made during the technical working sessions. Marked by our 135 percent membership growth since January 2013, the opportunities SGIP provides for stakeholders to collaborate – including the Inaugural Conference — continues to make a significant impact on the Smart Grid industry."
Setting the tone for the conference, keynote speaker Hank Kenchington, deputy assistant secretary, advanced grid integration, Department of Energy, highlighted the importance of interoperability in today's Smart Grid industry, stating that it leads to benefits such as collaboration, increased reliability, additional jobs and innovation. John R. Norris, commissioner, Federal Energy Regulatory Commission (FERC), also spoke about the importance of appropriate grid investments. He noted that SGIP members' work is critical to the future of the grid and the energy industry at large. Lisa Polak Edgar, Florida Public Service Commissioner and 2nd vice president of the National Association of Regulatory Utility Commissioners (NARUC), stressed the need for SGIP to continue to educate regulators. She emphasized how interoperability leverages technology to improve reliability and reduce costs associated with the grid.
"The Inaugural Conference demonstrated the breadth and depth of SGIP's work efforts to address key issues for the Smart Grid," said John McDonald, chairman, SGIP Board of Directors, and director of technical strategy and policy development, GE's Digital Energy business. "Through the collaboration of SGIP's world-wide members and partner organizations, this orchestration model has enabled energy modernization efforts globally."
Popular topics discussed at the conference included cybersecurity, transactive energy, the Green Button, microgrids, advanced metering infrastructure (AMI) and outage management, machine-to-machine (M2M), Internet of Things (IoT) and international perspectives. Key highlights include the following:
• SGIP's Smart Grid Implementation Methods Committee's (SGIMC) introduced the Interoperability Implementation Experiences (IIE): a new process for members to share interoperability implementation experiences. This includes working group sessions, webinars and templates for sharing data. The committee also demonstrated a new Smart Grid Standards Mapping tool which provides members with visibility into how standards work together across the Smart Grid.
• New frameworks were released. The GridWise Architecture Council (GWAC) announced the first release of its Transactive Energy Framework and the U.S. National Institute of Standards and Technology (NIST) introduced the draft release 3.0 of its Framework and Roadmap for Smart Grid Interoperability Standards, both of which are open for public feedback.
• Brazil National Institute of Metrology, Quality & Technology (Inmetro) signed a Memorandum of Understanding with SGIP to enable closer cooperation on Smart Grid standards activities. Leocadia Zak, director, U.S. Trade and Development Agency stressed the need for SGIP to continue its international outreach.
• John McDonald highlighted SGIP's accomplishments in 2013, including the Smart Grid Cybersecurity Committee's (SGCC) Privacy Roadmap, which provides critical guidelines for cybersecurity that address privacy needs and the accomplishments of the Distributed Renewables, Generation and Storage (DRGS), Domain Expert Working Group (DEWG). Coordinated with DOE and DOD, the group has defined use cases based on microgrid demonstration projects and developing architectures and models for information exchange.
Additional information on the conference can be found here, and a roundup of conference related Twitter conversations can be found by searching the hashtag #SGIP.
About Smart Grid Interoperability Panel
The Smart Grid Interoperability Panel (SGIP) orchestrates the work behind power grid modernization. SGIP was established to identify technical and interoperability standards harmonization that accelerates modernization of the grid. As a member-funded, non-profit organization, SGIP helps utilities, manufacturers and regulators address standards globally: utilities gain improved regulatory treatment for investment recovery and manufacturers obtain enhanced commercial opportunities worldwide. SGIP members stay competitive, informed and well-connected. To learn more about SGIP, visit http://sgip.org/.
Featured Product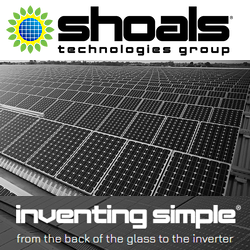 Inventing Simple® isn't just a slogan to us, it's a way of life. Using simple plug-and-play ideology, we revolutionized solar installations in 2003 with our Interconnect Systemâ"¢. Our harnessing system is now the gold standard EPC's use around the world. By using simple ideas, we are making solar energy a more affordable and clean power source for future generations.