IMPA, Inovateus Solar, and Danfoss collaborated on the best solution for this site.
Danfoss Solar Inverters, a leading PV inverter manufacturer, announced today that the Indiana Municipal Power Agency (IMPA) has chosen Danfoss Solar Inverters to power a 1 MW site near Richmond, Ind. One Danfoss QLX central inverter will be used to power the site and is scheduled to be commissioned in January 2014.

Easy to install – wherever
IMPA, Inovateus Solar, and Danfoss collaborated on the best solution for this site.
"We appreciate the opportunity to work with Danfoss, Inovateus Solar and Richmond Power and Light on this solar installation, which will benefit IMPA and our member community of Richmond as well as assist us in expanding our generation portfolio," commented Raj Rao, President and CEO of IMPA. "We hope to construct an IMPA solar park that not only adds a valuable source of renewable energy to our portfolio, but is educational to the community as well."
The project is expected to generate 1615 MWh/year of renewable energy for IMPA's members.
Based on its quality and reliability, the QLX 1 MW central inverter from Danfoss was an ideal fit for the outdoor environment in Indiana. The QLX is equipped with ShowerPower® power stack technology and Danfoss VLT® variable speed drives to improve performance in outdoor environments and reduce maintenance.
"We are excited to be chosen as a partner with Inovateus, the engineering consultant for this IMPA 1 MW installation," said Mark Haug, Director, Strategic Sales and Marketing for Danfoss Solar Inverters in the US. "Danfoss looks forward to a long-term partnership, which will be mutually beneficial and allow us the opportunity to win future business with these two proactive companies."
About IMPA
The Indiana Municipal Power Agency is the not-for-profit wholesale power provider to 59 cities and towns across Indiana and one Ohio community who own and operate the municipal electric distribution systems in their communities. IMPA member communities deliver electric service to approximately 330,000 individuals throughout the state. For more information, visit www.IMPA.com.
About Danfoss
With more than 40 years of engineering expertise in power electronics and a global reputation of innovation in solar inverter technology, Danfoss offers the U.S. market a comprehensive line of solar inverters for residential, commercial, and utility-scale power plants. Danfoss' utility-scale central solar inverters (1 MW – 1.5 MW) are designed and manufactured in the United States at the company's Loves Park, Ill., facility.
Featured Product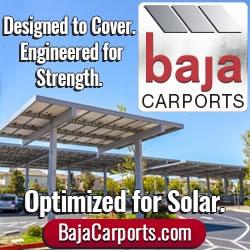 Baja Carports offers an extensive solar support system product line customized to customers' site specifications by in-house engineers, meeting their parking lot coverage, plus optimal PV production needs. Baja's Full Cantilever Tee is often paired with its Semi and Full Cantilever carports to meet live/loads up to 60psf and wind speeds to 160mph. All Baja products are pre-fabricated, bolted connections, pre-galvanized structural steel for fast on-site installation and project aesthetic requirements."