Dow Corning's next-generation conductive adhesive combined with Tianwei's MWT technology deliver high efficiency and durable back-contact modules.
Shanghai, China, November 19, 2013— Dow Corning and Tianwei New Energy Holdings Company jointly announced a new collaboration today. Dow Corning's silicone-based, next-generation conductive adhesive PV-5802 will be used in, Tianwei New Energy's Metal Wrap Through (MWT) module production line, which is an industrial scale, highly automated production solution developed by ECN's (Energy Research Center of the Netherlands). PV-5802 provides excellent electrical properties and stability, which will greatly enhance the electrical performance, reliability and durability of Tianwei New Energy's MWT module. This cooperation and technological breakthrough demonstrates both companies' continued commitment to solar photovoltaic innovation and technology applications.

A cutting-edge solution for crystalline silicon cells and modules, MWT technology effectively improves module conversion efficiency without significantly increasing the base cost, which has been a major focus for the industry and mainstream manufacturers' R&D efforts. Tianwei New Energy's solution features a new cell interconnection solution using conductive backsheet and conductive adhesives, which greatly reduces power loss and increases production yield. Its fully automated functionality also significantly reduces labor costs and quality risks.
Dow Corning's PV-5802 conductive adhesive demonstrated excellent conductivity and production yield in tests on Tianwei's MWT production line. The MWT modules using PV-5802 had very low cell-to-module power loss, less than 0.4%. The full area module efficiencies reached 16.8 %, an outstanding value for multi-crystalline Silicon modules. In accelerated aging tests, the modules showed very low degradation: 0% loss after 300 thermal cycles (between – 40 °C and 85 °C), and 0.2% loss after 1500 hours in damp heat conditions (85 °C, 85 % relative humidity). In addition, the material also demonstrates very good recyclability, helping customers to reduce costs.
A set of MWT modules using PV-5802 has been tested by TUV Nord for qualification according to the standards IEC/EN 61215, IEC/EN 61730-1 and IEC/EN 61730-2. All tests were passed successfully, and as a result certification was granted.
"Tianwei New Energy is the industry leader in MWT technology adoption, and we are very pleased to enter into this collaboration with them," said Dow Corning Solar Division Vice President Dan Futter. "With Dow Corning's advanced experience in silicones and conductive materials, this is a strategic move for both companies. We look forward to deploying this new innovative solution on a larger scale."
"Dow Corning's newly developed conductive adhesive performs nearly perfectly in performance testing, giving us full confidence in this collaboration," said Wang Haitang, Tianwei New Energy General Manager. "PV-5802 will enhance the conversion efficiency and durability of MWT modules, providing Tianwei's downstream customers with higher quality, more efficient products. I believe this will help optimize and upgrade the entire industry chain."
Dow Corning and Tianwei New Energy are fully committed to supporting the continued development of China's solar energy industry. As one of the few providers of silicone-based solar solutions in the world, Dow Corning continues to develop and improve its solar energy solutions portfolio to meet the needs of the global solar cell, module and installation sectors. Tianwei New Energy is a highly vertically integrated silicon, wafer, cell, module and photovoltaic systems supplier. It is the only company in China that produces solar products across the value chain from raw silicon materials up to completed solar systems.
Tianwei New Energy introduced the 150 MWp MWT module production line in early 2012. After one year of trial operation, the company has now successfully implemented worldwide deployment, and produced bulk exports for the Australian market. Now, Tianwei New Energy plans to supply customers worldwide with low-cost, high-efficiency MWT photovoltaic products.
About Dow Corning
Dow Corning (dowcorning.com) provides performance-enhancing solutions to serve the diverse needs of more than 25,000 customers worldwide. A global leader in silicones, silicon-based technology and innovation, Dow Corning offers more than 7,000 products and services via the company's Dow Corning® and XIAMETER® brands. Dow Corning is equally owned by The Dow Chemical Company and Corning, Incorporated. More than half of Dow Corning's annual sales are outside the United States.
About Tianwei New Energy
Tianwei New Energy Holdings Co., Ltd. (http://www.twnesolar.com/)is an affiliate of China South Industries Group Corporation (CSGC). The Tianwei Group is a leading enterprise in the power transmission industry, and has the biggest transformer plant in the world. Tianwei engages in the entire value chain of the solar photovoltaic (PV) industry – the R&D, manufacturing, sales and service of polysilicon materials, PV cells, PV modules, and PV systems.
Featured Product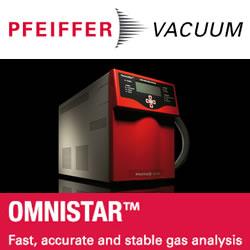 The Pfeiffer Vacuum OmniStar benchtop analysis system offers you a compact footprint, powerful software and Ethernet connectivity. It's the optimum solution for many real-time gas analysis applications. With the OmniStar, Pfeiffer Vacuum offers you a complete solution for gas analysis, in chemical processes, semiconductor industry, metallurgy, fermentation, catalysis, laser technology and environmental analysis. The turnkey OmniStar gas analysis system consists of heated, temperature-regulated gas inlet system, Quadrupole mass spectrometer, a dry diaphragm vacuum pump and HiPace turbopump. Unlike competing methods such as FTIR, OmniStar is suitable for qualitative and quantitative analysis of most gases.