The installation is part of a significant wind farm development providing power for homes and businesses in Germany.
PRESS RELEASE

Job No. MORGCS001
Issue Date: 23/10/13
Exceptionally high-temperature resistance, a low installed thickness and low weight are just three key benefits of Morgan Advanced Materials FireMaster® Marine Plus blanket, which has been installed on offshore convertor platforms in the North Sea. The installation is part of a significant wind farm development providing power for homes and businesses in Germany.
Electricity transmission grid operator TenneT commissioned Siemens Energy and Prysmian Powerlink to construct a power grid connecting a series of offshore wind farms to shore. Each farm contains a number of high-voltage, direct current convertor platforms, fabricated by Nordic Yards, with a foundation support structure and topsides that incorporate conversion equipment, workshops, a helicopter deck and accommodation quarters. Each platform transforms low voltage power generated by the wind farm into high voltage power, and converts it into efficient, low-loss direct current.
With each converter platform housing significant quantities of hydrocarbon products that can produce fire temperatures of up to 1100°C and 4000m2 of transformer rooms requiring 60 minutes resistance against hydrocarbon fuel fires, an efficient fire-resistant solution was essential.
Morgan Advanced Materials supplied its low-density FireMaster® Marine Plus blanket to meet the specific requirements of the project. The high-performance FireMaster Marine Plus blanket ensures temperatures of 140°C on the internal face are not exceeded, while withstanding temperatures of up to 1100°C on the fire-exposed face.
Weighing less than 6kg/m2, the lightweight material only needed to be provided at a thickness of 80mm to offer the necessary fire protection. The reduced thickness of the FireMaster Marine Plus blanket also helped make best use of space, with the system taking up approximately 40 per cent less space than alternative materials. FireMaster Marine Plus blanket was installed on two platforms last year, and will also be fitted on a third platform later this year.
Allan Beeston, Global Manager – Fire Protection at Morgan Advanced Materials, added: "FireMaster Marine Plus blanket is fully certified by DNV, underlining the fact it has been tested to rigorous fire protection standards. As well as its thermal capabilities, the importance of reducing weight for maritime applications cannot be underestimated. Excessively heavy topside structures can create problems when modules are lifted into place. Extra support strength for the structure may also be required, leading to increased costs. FireMaster Marine Plus blanket offers a 25-50 per cent weight reduction compared with traditional mineral wool and alternative materials available on the market."
For further information on thermal ceramics from Morgan Advanced Materials, visit www.morganthermalceramics.com.
Ends
About Morgan Advanced Materials
Morgan Advanced Materials is a global materials engineering company which designs and manufactures a wide range of high specification products with extraordinary properties, across multiple sectors and geographies.
From an extensive range of advanced materials we produce components, assemblies and systems that deliver significantly enhanced performance for our customers' products and processes. Our engineered solutions are produced to very high tolerances and many are designed for use in extreme environments.
The Company thrives on breakthrough innovation. Our materials scientists and applications engineers work in close collaboration with customers to create outstanding, highly differentiated products that perform more efficiently, more reliably and for longer.
Morgan Advanced Materials has a global presence with over 10,000 employees across 50 countries serving specialist markets in the energy, transport, healthcare, electronics, petrochemical and industrial sectors. It is listed on the London Stock Exchange in the engineering sector.
For more information on Morgan Advanced Materials visit www.morganadvancedmaterials.com
For further information, please contact:
Luke Bull, Wyatt International
luke@wyattinternational.com
Tel +44 121 454 8181
Scott Bentley, Morgan Advanced Materials
marketing@morganplc.com
Tel +44 (0)1299 827000
Featured Product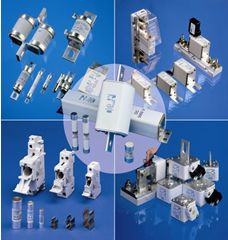 SIBA Fuses: your trusted source for all your circuit protection applications, from solar power to wind power. We are the world leaders in these applications and the most trusted name for your circuit protection needs. We have been working for over 70 years in semiconductor fuses, including ULTRA RAPID®, medium, and high voltage, standard European, miniatures, electronic fuses, and a wide range of DC rated fuses (24 VDC - 5000 VDC) for all types applications. We work with medium and high voltage fuses for protection of transformers, including submersibles, motors, medium and high voltage switchgear, compact substations, cable feeders, and high voltage capacitor circuits. New: Full line of PV UL Listed fuses and fuse holders. Contact us today for more information on our products and services.