New Website Created by Digital Agency Vertic on SiteCore Platform
New York, NY November 17, 2013

Vertic has announced today the launch of a new Vestas.com website for leading customer, Vestas. The website is the latest in a number of successful implementations on the SiteCore platform.
The newly redesigned site provides quick and easy access to information and a more comprehensive understanding of Vestas' position as the leading pure player in wind energy. With a clean uncluttered design, enhanced functionality and richer content, the site now drives a unique story to the multiple stakeholders engaged in promoting wind energy.
"We are excited about our new website and the new depth of information it provides to our customers, investors, partners and the media to better understand Vestas' leading position in renewable energy," says Mirella Amalia Vitale, Vice President, Global Marketing Global MarCom & Corporate Relations for Vestas, who awarded Vertic the assignment. "Vertic has worked for Vestas on several digital campaigns and portals over the last four years and has supported our transformation to a more customized, targeted approach to digital marketing. This latest redesign of the vestas.com is the result of strategic alignment, intelligent creative storytelling and a great production process. It creates a great platform to show case our services and offerings and the Vestas Brand. The site is based on the SiteCore CMS. Vertic has successfully partnered with the CMS supplier on a number of large scale .com projects. The decision of CMS was made in conjunction with the award of site re-design."
"It's great to see the new vestas.com come to life," said Sebastian Jespersen, CEO of Vertic. "In order to maintain their position as the industry's thought leader, Vestas' website had to effectively represent this position and for each and every stakeholder, ensuring the most customized user experience no matter what the visitor's browsing prerequisite. This site takes the unique and segmented user experience to the next level, which is possible from the collaboration of SiteCore technology, empowered leadership at Vestas and the Vertic strategic and creative blend."
About Vertic
Vertic is a global independent digital ad agency. Our award-winning solutions are based on our ability to blend the core competencies of strategy, story-telling, creativity, interaction-design, and in-depth understanding of content creation, in the pursuit of tangible business results.
Vertic's mission is to help industry leaders apply interactive solutions to build their brands and create great customer experiences across the entire digital channel.
Founded in 2002, Vertic are represented in Copenhagen, New York, Seattle and Singapore. Our passion is creating 360 multi-channel solutions that generate demand for our client's brand.
About Vestas:
Vestas is the only global energy company dedicated exclusively to wind energy, which our superior cost-effective wind technologies, products and services show. Since Vestas was founded in 1979, Vestas has grown into a market leading position with more than 57GW of installed wind turbines, comprising around 19% of the total global capacity.
Featured Product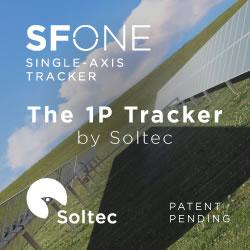 Soltec manufactures and supplies solar trackers designed and proven for extreme climate conditions, which is an ideal solution for any region's environment. Soltec's trackers are self-powered, requiring no additional PV module or grid-powered connection. Bifacial modules collect energy on both the front and rear sides, capturing reflected irradiance from the ground surface under and around the tracker and from other modules. Depending on site conditions, bifacial yield-gain can reach +30 percent.