International Standards Body ASTM Publishes E2939
OVERLAND PARK, Ks. (20 November 2013) – ASTM International (ASTM) the international industry standards group has published the E2939-13 Standard Practice for Determining Reporting Conditions and Expected Capacity for Photovoltaic (PV) Non-Concentrator Systems. This is a new standard for calculating the expected generation capacity of a solar PV plant. E2939 will make it easier for operators to test a solar project before it goes live. Black & Veatch Renewable Energy Consultant Evan Riley is the standard's technical contact and primary author.

Prior to the release of E2939, there was no consistency in how the expected generation capacity of a solar PV plant was calculated. E2939 is intended to be used with an existing test method that communicates how to measure and report the capacity of newly installed solar plants.
"E2939, when combined with E2848, provides an accurate and rapid way to verify the performance of a PV plant under sunny conditions. This is important not only at the time of construction, but also as an ongoing check of correct performance and as a basis for later sale of a plant," explained Sarah Kurtz of the National Renewable Energy Laboratory, who supported Riley's development of the standard.
Before a plant is operational, it is typically tested to ensure it will perform as expected. The test is conducted by comparing a facility's expected capacity to a measured capacity. A measured result that is equal to or greater than the expected figure is often a prerequisite for the plant to operate.
"This standard is a direct result of Black & Veatch's experience on the technical, financial, and conceptual side of solar project development," Riley added. "For the first time, the industry will have a standard that provides a comprehensive, technically valid method to conduct performance testing for solar PV power plants."
Riley has worked on a variety of renewable energy projects for industry and government clients during his tenure with Black & Veatch. Recent projects include independent engineering on some of the world's largest solar projects. He also performs owner's engineering duties, technical and economic project evaluation, and preliminary design for utility scale PV projects. In addition to the new standard, Riley has published academic papers relating to PV for distributed generation and wind potential in the United States.
About Black & Veatch
Black & Veatch is an employee-owned, global leader in building Critical Human Infrastructure™ in Energy, Water, Telecommunications and Government Services. Since 1915, we have helped our clients improve the lives of people in over 100 countries through consulting, engineering, construction, operations and program management. Our revenues in 2012 were US$3.3 billion. Follow us on www.bv.com and in social media.
Featured Product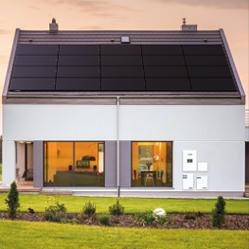 The Q.Home+ ESS HYB-G1 energy storage solution offers scalable storage capacity from 4.5 kWh up to 18.9 kWh and comes in a modular design for easy and fast installation. The system is offered in both DC-coupled and AC-coupled configurations and can connect up to 3 batteries in series using only one inverter and battery management system (BMS). The system includes an integrated backup power function for 100% of the rated inverter output to support critical loads in the event of power failure and offers remote monitoring using the QHOME+ web portal or QHOME+ ESS mobile app.