The Vindicator LiDAR has passed the initial side by side testing process overseen by DNV GL and will be shipped to California for deployment in December.
The teams of Sound & Sea Technology Inc, AXYS Technologies Inc, and DNV GL Inc have announced the award of a contract from the U.S. Navy for the validation of an offshore floating LiDAR wind resource assessment system.

Sound & Sea Technology (SST) will provide overall management of the program, coordination with the Navy, ocean engineering expertise, environmental planning and installation support.
AXYS Technologies Inc. (AXYS) will be supplying their WindSentinel™ floating LiDAR system. The WindSentinel uses the Vindicator® III, the world's only simultaneous pulsed LiDAR with integral motion compensation, to accurately measure offshore wind speed and direction up to the blade-tip heights of 200m. This project will look to take advantage of recent new developments in the sensor technology derived from AXYS' relationship with OADS, developers of the simultaneous pulse technology.
The WindSentinel has recorded a number of world firsts, including the first commercial deployment and the most remote LiDAR offshore wind resource assessment ever conducted, 36 miles offshore. The WindSentinel also measured winds in excess of 60 mph and 33 foot waves as Hurricane Sandy passed over Lake Michigan.
DNV GL will provide an independent evaluation of the validity of the floating LIDAR system by identifying measurement requirements and metrics to qualify the system for use in wind power development. As the independent third-party reviewer, DNV GL will establish the data requirements and complete the validation analysis. DNV GL will develop validation metrics related to data recovery, instrument availability, accuracy, and uncertainty. These metrics will be adapted from DNV GL's recommended practice for validating LIDAR measurements, "DNV Sodar and Lidar Guidelines."
The Vindicator LiDAR has passed the initial side by side testing process overseen by DNV GL and will be shipped to California for deployment in December for a six month study to confirm the validity of this technology.
Sound & Sea, Inc. is a Woman-Owned small business with offices in Lynnwood and Poulsbo WA, Ventura and San Diego CA and Washington DC. SST provides ocean engineering expertise to the U. S. Navy, other government agencies, the marine renewable energy industry and the undersea telecommunications industry. For further information, contact SST at info@soundandsea.com or visit www.soundandsea.com.
DNV GL's team of over 150 wind energy professionals has been supporting and actively involved in the wind industry for more than 20 years. Their wind energy segment specializes in providing feasibility consulting, analysis, design, testing, management, certification, and verification services to a wide range of wind industry clients. DNV GL's experience includes utility-scale and small-scale applications of onshore and offshore wind energy technologies. Their personnel have worked on wind projects in more than 40 U.S. states and 30 countries. www.gl-group.com
AXYS Technologies, Inc. designs, manufactures, distributes and maintains remote environmental data acquisition, processing and telemetry systems. For further information contact AXYS at info@axys.com or visit www.axystechnologies.com
Featured Product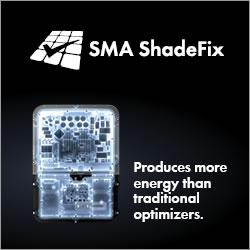 A recent university study showed SMA ShadeFix optimization produces more energy than traditional optimizers. It also utilizes far fewer components, reducing the need for costly service visits. Systems with ShadeFix optimization and SunSpec certified shutdown devices are the ideal solution for residential and commercial PV systems. Visit SMA's website to learn more and download the whitepaper.