Marks Eighth Hawaiian Installation
KYLE, Texas, Nov. 21, 2013 /-- Xtreme Power, a world leader in integrated power management and energy storage solutions, is proud to announce a new project in Hawaii with the Kauai Island Utility Cooperative (KIUC). The KIUC IV project will be installed on a new 12MW solar farm, marking Xtreme Power's eighth system in Hawaii.

KIUC already has 4.5 MW of Xtreme Power systems in operation in Kauai, and the fourth collaboration will use lithium ion batteries. Xtreme Power will deploy its new, modular RAMP Series™ Energy Storage System (ESS) -- 2MW, 15 minutes -- to provide ramp rate control and fast frequency response to help integrate the 12 MW solar farm.
"We're thrilled to announce yet another project commissioning in Hawaii where the commitment to greening the power grids is inspiring," said Alan Gotcher, Chief Executive Officer of Xtreme Power. "We're proud to be a partner for utilities on the island, and to build upon our relationship with the community."
Islands present a unique energy storage market as there is a great need to mitigate reliance on diesel fuel. For Hawaii, projects such as KIUC IV reduce the total cost of producing power. Xtreme Power's RAMP Series ESS paves the way for enhanced grid flexibility, clearing the path for more renewables to come online and meet local electricity demands.
"KIUC is pleased to be working with Xtreme Power on our fourth battery system to help deliver the promise of clean, affordable green energy," said John Cox, engineering manager of KIUC. "The unmatched speed and performance of Xtreme Power's Xtreme Active Control Technology™ (XACT™) preserves grid reliability while supporting continued renewable integration efforts in accordance with KIUC's strategic goals."
The KIUC IV project is scheduled for commissioning in May 2014.
About Xtreme Power
Xtreme Power provides scalable, real-time power management and energy storage solutions that enable a more sustainable, reliable, and cost effective electric grid. Xtreme Power's systems combine real time controls and intelligent power conversion systems with efficient energy storage technology engineered specifically to the needs of its customers. Xtreme Power enables multiple participants and technologies to simultaneously operate on the electric grid providing new flexibility that has never been possible before. Xtreme Power is a US company backed by investors SAIL Capital Partners, Bessemer Venture Partners, The Dow Chemical Company, Fluor Corp., BP Alternative Energy, Dominion Resources, POSCO ICT, Skylake & Co. and Spring Ventures, LLC. A 2012 Bloomberg New Energy Pioneer, Xtreme Power earned the 15th spot on Inc. Magazine's 500|5000 list of the fast growing private companies in the U.S. in 2012 – the company's second year in a row making the list. For more information, please visit http://www.xtremepower.com.
Featured Product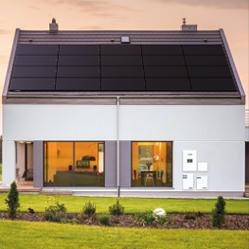 The Q.Home+ ESS HYB-G1 energy storage solution offers scalable storage capacity from 4.5 kWh up to 18.9 kWh and comes in a modular design for easy and fast installation. The system is offered in both DC-coupled and AC-coupled configurations and can connect up to 3 batteries in series using only one inverter and battery management system (BMS). The system includes an integrated backup power function for 100% of the rated inverter output to support critical loads in the event of power failure and offers remote monitoring using the QHOME+ web portal or QHOME+ ESS mobile app.