Program for San Diego County Residents Set to Dim at Year's End
SAN DIEGO (November 22, 2013) – To further expand the adoption of solar power in San Diego County, locally headquartered firm Sullivan Solar Power launched its Sullivan Cash Reward program at the start of this year. The solar incentive program, available exclusively to San Diego County residents, offers $0.20 per watt up to $1,500 cash-back for going solar. Sullivan Solar Power announced Friday that the program will expire on December 31, 2013.

"Sullivan Cash Rewards has been a game changer for residents who have wanted to go solar but thought it was too expensive," said Daniel Sullivan, founder and president of Sullivan Solar Power, "This program allows residents to declare energy independence for no money out-of-pocket, save money every month, and then, we are actually paying people to do it."
To date, more than 450 San Diego residents are benefitting from the Sullivan Cash Rewards program. This year, Sullivan Solar Power is paying out more than $520,000 in cash-back incentives from the participants that have already subscribed to the program. The company expects that the program will inject more than $600,000 into the San Diego economy when the program closes.
Sullivan Solar Power is known for leading philanthropic efforts in the solar industry. Earlier this year, the company announced a partnership with non-profit organization, GRID Alternatives. For each property owner that goes solar with Sullivan Solar Power, the company will donate one-locally manufactured solar panel to the organization to install on low-income homes.
"We expect that more than 90 families will receive free solar installations as a result of our company's donations to GRID Alternatives," said Daniel Sullivan, "It is important to us that solar power is made available to everyone – especially those who need financial relief the most."
Sullivan Solar Power's dedication to the local community does not go unnoticed. The firm recently won the Community Leadership Award from San Diego North Chamber of Commerce. In 2013, Sullivan Solar Power and its employees have received more than a dozen rewards and recognitions.
Sullivan Solar Power was recently secretly shopped by two local media outlets, CBS News and UT-San Diego. The reporters from each media outlet received multiple bids from San Diego companies before releasing stories to the public on their experience with solar photovoltaics, where they chose Sullivan Solar Power as their top choice.
After interviewing 15 separate companies, CBS 8 meteorologist, Matt Baylow, selected Sullivan Solar Power for his project.
"Our interviewing process led us to go with a company that's well established, has great track record, provided dozens of references, and had a panel we liked a lot," said Baylow, "The proof is in the payments. September 2012 was a ot month, and with a two story and air conditioning, our power bill was over $400. In September 2013, SDG&E owed us $16."
With some of the highest electricity rates in the continental United States, many homeowners throughout San Diego are jumping on the solar bandwagon. Poway resident Roy Webb went solar with Sullivan Solar Power earlier this year, and received a check for $1,255 through the Sullivan Cash Reward program. Webb was motivated to install a solar power system to reduce his electric bill costs.
"After (reviewing) several competitor proposals, I chose Sullivan Solar Power. The incentive program was a bonus," said Webb, "The communication was excellent thought out the process from the first visit to the turn on of the system. The installation was professionally completed beyond my expectations."
San Diego homeowners can reserve their space in the Sullivan Solar Power administered program by signing up before 5 p.m. on Tuesday, December 31. Appointment availability is limited. For more information on how to participate or to schedule a complementary site evaluation, call 1-800-SULLIVAN or visit www.SullivanSolarPower.com
Featured Product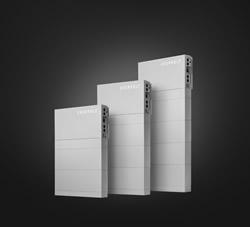 Panasonic's Total Home Energy System is built to deliver. The same battery technology we use to power the world's most advanced electric cars is now available to power your home. But it doesn't stop there. The all-in-one renewable energy system pairs Panasonic solar panels with Evervolt™ batteries to offer your customers a complete solar + storage solution, manufactured and warrantied by a company you know you can trust. In stock now.