BrightSource Energy, a U.S. company specializing in solar thermal electricity generation, is about to inaugurate by the end of the year the largest production center ever built in the Mojave Desert in California.
The new plant of Ivanpah, in the County of San Bernardino, is the project of the world's largest solar power plant, and has a focus on solar thermal concentrating technology towers.

A senior BrightSource Energy, Joe Desmond, explained that "Ivanpah currently offers one of the highest in the world solar concentrations."
According to the International Energy Agency (IEA) , solar grouping concentrating solar power and photovoltaic energy could represent 25% of total electricity generation by 2050 and cover a third of global demand from 2060.
To produce this concentrated solar power plant Ivanpah deployed 170,000 mirrors that concentrate the sun's rays on water- heater located at the top of three towers. The steam thus generated, where temperatures may exceed 260 degrees Celsius, activate turbines responsible for producing electricity.
"We can store thermal energy from the sun in the form of molten salt. Thus, we can generate electricity even when the sun goes down. Concentrated solar power a strong interest worldwide in areas where you have a lot of sun, such as China, South Africa, Middle East and North Africa" says Desmond.
Note that some campaigners denounce the environmental solar energy project for them, sacrifices a vast expanse of desert that is far from uninhabited. Notably, a desert tortoise has been relocated to facilitate construction of the complex, accounting for about $ 50 million effort.
Lisa Belenky, from the NGO Center for Biological Diversity, argues that it would be better to install solar power plants on ecological sites already damaged like ancient mines or parking for example.
Written by Greenshine, solar street lighting solutions for commercial areas, business complex and more.
Featured Product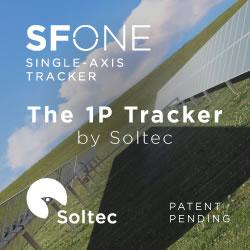 Soltec manufactures and supplies solar trackers designed and proven for extreme climate conditions, which is an ideal solution for any region's environment. Soltec's trackers are self-powered, requiring no additional PV module or grid-powered connection. Bifacial modules collect energy on both the front and rear sides, capturing reflected irradiance from the ground surface under and around the tracker and from other modules. Depending on site conditions, bifacial yield-gain can reach +30 percent.