"The advantages of DC power systems become particularly clear when considering the integration of renewable energy generation"
BOULDER, Colo.--The use of direct current (DC) power in buildings is expanding, driven by the growing reliance on renewable energy sources, increased demand for advanced energy storage devices, and increased demand for energy efficiency within commercial buildings. Deployed at the level of a single building or microgrid, DC power distribution can reduce the number of required conversions between alternating current (AC) and DC power, thereby increasing overall building energy efficiency. Click to tweet: According to a new report from Navigant Research, the global market value for DC power-based building technologies will grow from $609.1 million in 2013 to $9.7 billion in 2020.

"The advantages of DC power systems become particularly clear when considering the integration of renewable energy generation," says Eric Woods, research director with Navigant Research. "Solar photovoltaic and wind power systems are both natively DC. Inserting a DC distribution system eliminates the need for AC/DC conversion points when the power reaches the building's distribution system, and when it is delivered to the devices, thus avoiding the losses associated with the conversions."
The adoption of Internet protocol (IP) phone systems is also expanding the use of DC in buildings. The power over Ethernet (PoE) technology used for IP telephony can also support devices for security, point of access, and wireless networking, according to the report. Major PoE providers are moving to implement the technology for lighting, monitors, televisions, and other electronic devices. At the same time, bolstered by the standardization efforts of industry groups and growing success at data centers, non-PoE DC technologies are entering into a period of more rapid commercialization and development.
The report, "DC Power for Commercial Buildings", analyzes the global market opportunity for DC power technologies in commercial buildings. Five technology categories are covered: DC building power supply equipment, DC building controls and functionality, DC lighting, DC plug loads, and DC building microgrid infrastructure. The report provides a comprehensive assessment of the demand drivers and barriers, trends, and technology issues associated with worldwide DC power systems. Global market forecasts, segmented by technology, region, and commercial building type, extend through 2020. The study also examines the standards and regulations related to DC power distribution systems, and provides in-depth profiles of key industry players. An Executive Summary of the report is available for free download on the Navigant Research website.
About Navigant Research
Navigant Research, the dedicated research arm of Navigant, provides market research and benchmarking services for rapidly changing and often highly regulated industries. In the energy sector, Navigant Research focuses on in-depth analysis and reporting about global clean technology markets. The team's research methodology combines supply-side industry analysis, end-user primary research and demand assessment, and deep examination of technology trends to provide a comprehensive view of the Smart Energy, Smart Utilities, Smart Transportation, and Smart Buildings sectors. Additional information about Navigant Research can be found at www.navigantresearch.com.
About Navigant
Navigant is a specialized, global expert services firm dedicated to assisting clients in creating and protecting value in the face of critical business risks and opportunities. Through senior level engagement with clients, Navigant professionals combine technical expertise in Disputes and Investigations, Economics, Financial Advisory and Management Consulting, with business pragmatism in the highly regulated Construction, Energy, Financial Services and Healthcare industries to support clients in addressing their most critical business needs. More information about Navigant can be found at www.navigant.com.
Featured Product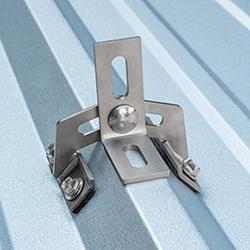 They have been changing the game for 10 years with their original Top Mount line for Asphalt Shingle roofs, and by now supplying one of the widest ranges of solar mounts in North America. From their patented products, to the custom production services they offer, QuickBOLT has been working with solar installers for nearly a decade to make solar installations easier than ever before.