KACO new energy feeds its factory 5 with electric energy from the company's own solar park.
Neckarsulm, 29 November 2013 – At the end of July KACO new energy commissioned its large PV power station close to Headquarters. After operating for 4 months, one thing is for sure: the solar electricity supply functions impeccably.

During the first half of 2013 KACO new energy planned and installed its hill-top "Erlenbach Solar Park" in the nearby borough of Erlenbach and about 1 km from the medium voltage connection of factory 5. It's to there that the plant feeds its energy, via a specially laid cable, and has been supplying manufacturing and office facilities with solar electricity since August.
Prior to that demand requirements had been thoroughly analysed, to figure out the potential of self-consumption. With the solar park going into operation, the purchase of electricity from the grid consequently dropped by 70%. Given factory 5's 18.3 Ct/kWh, typical electricity costs for small and medium enterprises, this means that this factory alone saves 80,000 € every year.
Ralf Hofmann, CEO of KACO new energy, underlines that this approach is an example ready to be copied by all kinds of businesses: "With our projects like here in Erlenbach we show, that a PV power supply at an industrial scale is possible, self-consumption makes sense and our inverter portfolio is perfectly apt for both. The majority of European enterprises, that bemoan their electricity bills, have roofs to spare. There could be PV arrays installed similar to the one here in Erlenbach."
The 4,636 modules in Erlenbach add up to a total power of 1,892 MW. More interesting yet is the special design: KACO new energy has put to work 42 Powador 9600, ten Powador 60.0 TL3 and two Powador XP500-HV TL outdoor. This combination has a deeper significance in that the park gives customers a realistic idea of the various ways to design and connect a large PV array.
Moreover it is open to visitors who want to learn about the power of photovoltaics and the manifold opportunities it offers for a sound and save future. From spring 2014 on, a "solar educational trail" will lead through the PV power plant with boards to explain in text and pictures everything one would want to know on photovoltaics and a sustainable energy industry – the enormous advantages of zero-fuel and zero-emission power stations, e.g. from the Erlenbach hill one has a good view on the 30 year old coal-fired EnBW power station on the other side of the river Neckar – and immediately understand what it is all about.
With nearly 2 MW and an expected 2 million kWh/a, KACO new energy's solar park has more than enough power to fulfill all the energy needs of factory 5 as soon as the sun comes up. Therefore, in 2014, the main building including factory 1 will be connected too. Also, an energy storage system with a capacity of 550 kWh will be added to shift solar power use into the night. When all the facilities are connected to Erlenbach, the annual savings on KACO new energy's electricity bill may well exceed 280,000 €.
About KACO new energy
KACO new energy is one of the world's largest manufacturers of grid-tie inverters for feeding solar energy. The company offers a comprehensive range of solar inverters for everything from single-family homes to multi-megawatt solar farms. KACO new energy is based in Neckarsulm, Germany and has been producing inverters with a cumulative capacity of more than six gigawatts since 1999. KACO new energy was the first company in the photovoltaic industry to manufacture inverters (the Powador model) in a completely CO2-neutral way. In addition to grid-tie and battery-based solar inverters, the company also supplies inverters for combined heat and power plants and concentrator modules as well as energy storage systems for solar power plants.
Press information and images are also available in the "News" section at www.kaco-newenergy.de
Featured Product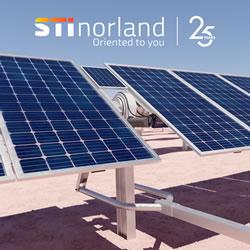 Developed in 2017, the STI-H250â"¢ is consists of two linked torsion beams that rotate simultaneously following the sun's path. They are moved by just one motor, cutting supply and maintenance costs. STI-H250â"¢ dual-row tracker includes backtracking mode to avoid shadowing between adjacent rows and stow function to protect the tracker in extreme wind conditions. For cleaning, vehicles can pass between trackers and each row can be placed in a different position.