Vertic creates website for Wind for Prosperity – one of the biggest corporate initiatives to combat energy poverty and deploy green technology in developing countries.
New York, New York November 27, 2013

Today, the global leader in wind energy, Vestas, has announced Wind for Prosperity. Anchored on Vestas' proven wind power technology, the initiative combines Vestas' unparalleled knowledge on global wind resources with poverty data in developing countries, and thereby locates communities facing severe poverty, but with an abundance of wind. The first Wind for Prosperity projects will focus on thirteen Kenyan communities that are home to more than 200,000 people.
Wind for Prosperity is not corporate social responsibility, philanthropy or corporate aid, but an innovative business model that brings affordable, reliable electricity to rural communities, and creates an opportunity for businesses, governments, and financial institutions to improve people's lives while generating risk-adjusted returns.
Morten Albæk, Group Senior Vice President and Chief Marketing Officer at Vestas, who came up with the idea for Wind for Prosperity comments: "Wind for Prosperity is a commercial innovation model illustrating how a proven technology such as wind power can be the corner stone of a fully commercial initiative. It is a real living example of how big data can be leveraged to develop humanity and create a commercially viable business model, all in the same process."
Wind for Prosperity aspires to bring electricity to 100 remote communities and more than 1.3 million of the poorest people on the planet within three years. The potential of Wind for Prosperity, however, goes beyond the 1.3 million, as analyses made by Vestas show that 50 million people currently live in areas facing severe poverty, but with an abundance of wind.
As part of the initiative, digital agency Vertic was tasked with creating a website that is able to show the vision, the data and the long term social impact of the project. "We are excited to be part of such as an ambitious program," says Sebastian Jespersen, CEO of Vertic. "Big data is truly being used to develop an aspect of humanity, and we are grateful to be part of driving a commercial business model that is a first-time mover in any industry."
About Vertic
Vertic is a global independent digital ad agency. Our award-winning solutions are based on our ability to blend the core competencies of strategy, story-telling, creativity, interaction-design, and in-depth understanding of content creation, in the pursuit of tangible business results.
Vertic's mission is to help industry leaders apply interactive solutions to build their brands and create great customer experiences across the entire digital channel.
Founded in 2002, Vertic are represented in Copenhagen, New York, Seattle and Singapore. Our passion is creating 360 multi-channel solutions that generate demand for our client's brand.
About Vestas:
Vestas is the only global energy company dedicated exclusively to wind energy, which their superior cost-effective wind technologies, products and services show. Since Vestas was founded in 1979, Vestas has grown into a market leading position with more than 57GW of installed wind turbines, comprising around 19% of the total global capacity.
Featured Product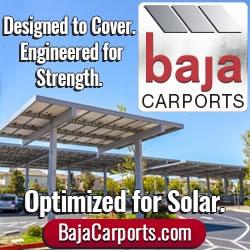 Baja Carports offers an extensive solar support system product line customized to customers' site specifications by in-house engineers, meeting their parking lot coverage, plus optimal PV production needs. Baja's Full Cantilever Tee is often paired with its Semi and Full Cantilever carports to meet live/loads up to 60psf and wind speeds to 160mph. All Baja products are pre-fabricated, bolted connections, pre-galvanized structural steel for fast on-site installation and project aesthetic requirements."