Eleven Northeastern states rank second in the nation in both solar and biomass power capacity
Washington, DC - The Northeastern Region Report, the third portion of the American Council On Renewable Energy's (ACORE) 6th annual Renewable Energy in the 50 Statesreport, was released today. The third in a four-part series, this portion focuses on the renewable energy sector in the eleven Northeastern states plus the District of Columbia (ME, NH, VT, MA, RI, CT, NY, NJ, PA, DE, MD, DC). The report is a review of state energy policies and programs, investment, and market openness as they relate to the current state of renewable energy and its potential for further growth. This fall both the Western Region Report and the Midwestern Region Report were released, and the Southeast Region Report will be released early in 2014.

"For several years now the renewable energy sector has been growing at an increasingly impressive rate. This has been especially true in the Northeast. These eleven states - plus the District of Columbia - rank second nationwide in both solar and biomass power capacity and may be on the precipice of a massive offshore wind build-out," explained Lesley Hunter, ACORE's Research and Program Manager and lead author of the report. "The availability of wood waste from the local forestry sector allows homes throughout the Northeast to use wood for space heating, water heating, and cooking at nearly twice the national rate, and growth in this sector is expected to steadily continue."
According to the Northeastern Region Report, there are renewable energy targets in every Northeastern state, many of which have solar energy carve-outs. New York and Pennsylvania are first and second, respectively, in both renewable power with and without hydropower. Renewable energy is fast becoming more cost competitive in the Northeast. Three large utilities in Massachusetts, for example, recently signed long-term contracts to purchase renewable energy at less than $0.08 per kilowatt hour, below the cost of most conventional sources in the region.
"Various renewable energy technologies may also help to diversify the Northeast's energy production portfolio beyond conventional energy sources. New York, Massachusetts, and Maine - amongst others - are major producers of biomass and waste energy, using a number of available feedstocks like municipal solid waste, wood, and landfill gas," continues Hunter. "Hydropower has long been a major player in the Northeast's power market, imported to the region from Canada and produced at a large scale in Maine and New York."
Renewable Energy in the 50 States: Northeastern Region provides an executive summary for each state on the status of renewable energy implementation at the state-level. Compiling financial, renewable energy resource potentials, and market and policy information in an easily-accessed online format, the report is intended to be an executive summary for all who are interested in the highlights of the renewable energy sector in the states. Investment information in this report was provided by Bloomberg New Energy Finance.
ACORE's 2013 Renewable Energy in the 50 States: Northeastern Region can be viewed here.
About ACORE:
ACORE, a 501©(3) non-profit membership organization, is dedicated to building a secure and prosperous America with clean, renewable energy. ACORE seeks to advance renewable energy through finance, policy, technology, and market development and is concentrating its member focus in 2013 on National Defense & Security, Power Generation & Infrastructure, and Transportation. Additional information is available at www.acore.org.
Featured Product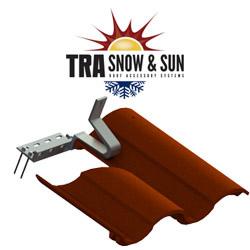 You haven't installed a tile mount that is easier to install than the Solar Tile Mount manufactured by TRA Snow and Sun. Solar Tile Mount is used on all tile roof profiles: flat, mid, and high. It is made in the USA of aluminum alloy for strength and excellent corrosion resistance. Solar Tile Mount is built to allow more ease in installation with more rise from the tile surface to the rail for better air flow below panels. The adjustable base is longer than most allowing attachment 6" to the left or right to have the bracket in the base of the pan of the tile and still fasten to the rafter. Solar Tile Mount is adjustable for counter batten systems from ¾" to 3". The horizontal rail is directly above base fasteners giving greater uplift resistance than any other system. For superior waterproofing apply TRA Snow and Sun's butyl backed VersaFlash aluminum flashing. No tile flashing is needed on top of the tile for greater labor and material cost savings.