Addressing Low Power Projects for Railroad and Telecommunications Customers
Spokane, WA – ReliOn, the leading provider of high reliability fuel cell solutions for backup power and grid-support applications, has recently launched its newly enhanced E-200 fuel cell system. This product is fueled by hydrogen and offers a number of features designed to improve customer usability, ease of maintenance, and performance. Upgrades to the E-200 fuel cell system were driven directly by feedback and input from existing customers and expand the reach of this unique power solution into additional market applications.

ReliOn's E-200 fuel cell system boasts a net power output improvement of 14% over the rated power of the earlier version. As a load-following solution, the E-200 fuel cell system is suitable for projects requiring between 50W and 200W of backup, grid-supplement or off-grid continuous power and can easily be used in cooperation with other clean energy sources like solar and wind power. Additionally, the product offers an industry first field selectable 12, 24, 36 and 48 volt DC output. This feature offers the end user the ability to install the fuel cell system for a specific project and then, if equipment voltage at the customer site changes in the future, to change the voltage output of the fuel cell on site, without having to manage inventories or order new fuel cell equipment. The addition of the new 36 volt output option enables ReliOn to offer solutions to markets previously not addressed by fuel cells.
In terms of maintenance and servicing, the new E-200 fuel cell system offers a USB Type A port on the front panel for code upgrades, which will simplify the process for customers and technicians in the field. A front panel Ethernet port was also added to provide an additional mode of local/remote management of the system. The E-200 fuel cell system retains its high reliability and simple operation, offering several options for remote communication, monitoring, enclosure configurations, and hydrogen solutions from 8kWhr to more than 200kWhr.
The E-200 fuel cell system is currently being shipped to customers.
About ReliOn:
ReliOn's continuous innovation in core technology has made it a leader in the development and marketing of modular, fault-tolerant fuel cell products for customers seeking solutions to critical backup power applications. With more than 1,650 sites serving customer equipment in 45 U.S. states and 34 countries, ReliOn customers enjoy the benefits of high reliability, low operating costs and easy maintenance. ReliOn products are tested or certified to stringent standards from CSA, UL, CE, Telcordia NEBS and China TTL Labs. ReliOn fuel cells…simply powerful. www.relion-inc.com.
Featured Product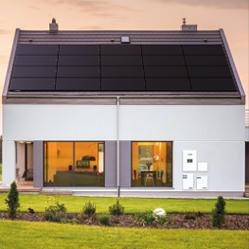 The Q.Home+ ESS HYB-G1 energy storage solution offers scalable storage capacity from 4.5 kWh up to 18.9 kWh and comes in a modular design for easy and fast installation. The system is offered in both DC-coupled and AC-coupled configurations and can connect up to 3 batteries in series using only one inverter and battery management system (BMS). The system includes an integrated backup power function for 100% of the rated inverter output to support critical loads in the event of power failure and offers remote monitoring using the QHOME+ web portal or QHOME+ ESS mobile app.