Welcoming the opening of the Drax coal-to-biomass conversion plant by Ed Davey today [1], REA Chief Executive Dr Nina Skorupska said:

"Biomass is exactly what the UK energy mix needs. Through converting old coal plants and building new biomass plants, we can have electricity when we need it and keep the lights on this decade using sustainable wood fuel instead of polluting coal power.
"The Government actually plans to withdraw support for new biomass power-only plants – which is a grave mistake. This makes it all the more vital that Government provides effective support for biomass conversion and combined heat and power under the new EMR package, to reassure investors that it understands the benefits of this cost-effective, baseload source of renewable energy."
Featured Product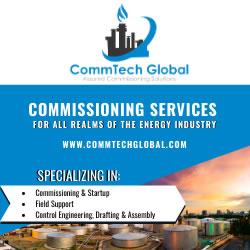 CommTech Global Solutions, LLC, provides professional and reliable commissioning services to customers in all realms of the energy industry. We blend our skills in engineering and technology with innovative business models, offering a complete range of services to assist you for a successful and in compliance operational startup. Consolidation of all our service domains gives our clients a comprehensive set of expertise and far-reaching experience on each project.