Welcoming the opening of the Drax coal-to-biomass conversion plant by Ed Davey today [1], REA Chief Executive Dr Nina Skorupska said:

"Biomass is exactly what the UK energy mix needs. Through converting old coal plants and building new biomass plants, we can have electricity when we need it and keep the lights on this decade using sustainable wood fuel instead of polluting coal power.
"The Government actually plans to withdraw support for new biomass power-only plants – which is a grave mistake. This makes it all the more vital that Government provides effective support for biomass conversion and combined heat and power under the new EMR package, to reassure investors that it understands the benefits of this cost-effective, baseload source of renewable energy."
Featured Product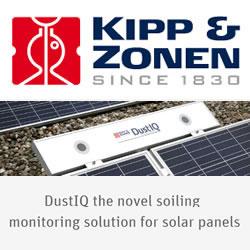 Soiling of the panel glass is one of the major problems in the rapidly expanding solar energy market, with the attendant loss of efficiency and reduction in performance ratios. Now, there's a new, simple and very cost-effective alternative. Based on Kipp & Zonen's unique Optical Soiling Measurement (OSM) technology, DustIQ can be easily added to new or existing solar arrays and integrated into plant management systems. The unit is mounted to the frame of a PV panel and does not need sunlight to operate. It continuously measures the transmission loss through glass caused by soiling, so that the reduction in light reaching the solar cells can be calculated.