China Can Accommodate Cleaner Energy Sources in its Power Generation Mix without Increasing Energy Prices
BEIJING--China's last decade of robust economic expansion is unprecedented anywhere in the world, equally matched by the building out of its electric power infrastructure, which has more than tripled in the same period—and most of this growth fueled by coal. Today, however, environmental concerns and urban air pollution are prompting the authorities to opt for cleaner technologies while demand continues to surge.

IHS (NYSE: IHS), a global research and analytics firm, recently concluded a unique study on the future of provincial gas and power markets in China, titled: 'Solving the Tangram', exploring how supply, demand, cost, and prices in each of China's 31 provinces will interact with evolving policies to shape the future of the country's energy sector.
The phenomenal electric load growth in the past 10 years was met by roughly 80 gigawatts (GW) of new power plants added each year, or adding an electricity system the size of Japan's – the third-largest in the world – every four years.
With the majority the additions being coal units, the emissions associated with this expansion have led to significant degradation in environmental quality, causing growing public discontent.
Changes are taking place. Structural adjustments in the wider economy combined with improvements in energy efficiency are expected to moderate future demand – and even under a scenario of sustained growth and globalization, electricity consumption increases by 4.1 percent per year on average from 2012 to 2035, only a third of the rate of the previous decade.
This is still significant by global standards at this growth rate, which still sees China's electricity demand doubling by 2026 and its total power load being larger than that of the United States and Europe combined by 2035.
This means that the nation must continue to build new power infrastructure while diversifying into cleaner technologies such as natural gas, wind, and solar, which are all more costly than coal.
For instance, natural gas is only two percent of China's power generation mix today owing to its high cost and limited supply, but the volume of gas consumed in power generation is expected to rise 10 times by 2035. Many fear that the growing share of more expensive energy sources will lead to a dramatic increase in power prices.
However, IHS research shows that the average cost of power generation in the country does not increase despite the rising penetration of these new fuels and technologies.
One of the conclusions of this bottom-up study found that the cost of power supply will not rise in China despite rapidly rising penetration of cleaner yet more expensive sources of energy.
"Rising fuel costs, increased energy import dependency, and growing dissatisfaction with environmental quality will still have to be addressed, but it is important for investors to understand that China can no longer be viewed as a single energy market," said Xizhou Zhou, director and head of China Energy at IHS.
Many Chinese provinces are the size of countries in the European Union or states in the U.S. in terms of population, size of economy or electric power system.
For example, Guangxi Province has roughly the same installed power generation capacity as the Netherlands; the coal consumption in coast Jiangsu Province is roughly the same as Canada.
There are big differences among provinces in fuel availability and prices, too; the retail natural gas prices in Ningxia in northwest China is roughly half of that of Beijing today.
"The Chinese power markets will become increasingly varied provincially, mirroring the variations in resource endowment, geographic location, and differing stages of economic development," said Zhou, who leads IHS energy research and consulting in Beijing.
"China will find itself navigating one of several energy growth pathways to diversify from coal into cleaner technologies for its electric power, build a sizeable natural gas market and secure sufficient energy to sustainably grow the economy by lowering its energy prices."
"Our research shows that the clean air drive will not come with a higher electric power bill as more expensive energy such as natural gas and solar can be offset by the continued expansion of cheaper sources like hydro. In other words, China can have its cake—and eat it too!" Zhou said.
Some key conclusions can be found in the summarized version of the IHS report: "Solving the Tangram", which is available upon registration at this link: http://www.ihsapac.com/site/register-solving-the-tangram.php
About IHS (www.ihs.com)
IHS (NYSE: IHS) is the leading source of information, insight and analytics in critical areas that shape today's business landscape. Businesses and governments in more than 165 countries around the globe rely on the comprehensive content, expert independent analysis and flexible delivery methods of IHS to make high-impact decisions and develop strategies with speed and confidence. IHS has been in business since 1959 and became a publicly traded company on the New York Stock Exchange in 2005. Headquartered in Englewood, Colorado, USA, IHS is committed to sustainable, profitable growth and employs approximately 8,000 people in 31 countries around the world.
Featured Product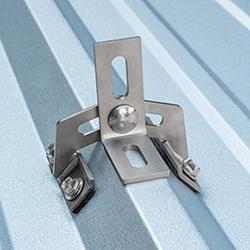 Error-Proof Compression: The QB2 doesn't leave any room for user error when it comes to Microflashing® compression. Once the Dual Drive Shoulder Screw is secured, the Microflashing® is compressed. Only 3 Components: The QB2 is comprised of Microflashing®, an L-foot and a Dual Drive Shoulder Screw. No more Nuts needed to tighten and secure the L-foot! Not only does this simplify the installation process, it also cuts down the installation time.