Solar Liberator hails in a new era of consumer solar power appliances, empowering individuals to take control of their energy needs!
DALLAS, Dec. 10, 2013 -- Solar Liberator is bringing a paradigm shift to solar power use with a range of consumer-friendly appliances that integrate a complete solar power system into a single, elegant package.

Solar Liberator takes away the barriers to switching to clean and free solar energy by providing an extremely quick and simple way to go solar with the lowest possible up-front cost. A Solar Liberator installation can be up and running in minutes rather than the days it takes to setup a traditional solar power system. Its' scalable design allows the consumer to incrementally add capacity as their budget permits.
The company has set up a crowd funding campaign to receive pre-orders and to popularize the concept. The campaign can be found at http://www.indiegogo.com/projects/solar-liberator.
Solar Liberator is available in 500w, 100W and 25W variants. The 500W unit is grid-tie capable and can be easily chained in to arrays of any capacity to power your home, office or workshop. Just keep it where the sun shines and plug it into a wall socket to power your home. The 25W and 100W units are designed for extra portability and versatility of use. They can provide power for your outdoor activities, vehicles and gadgets such as phones, tablets, cameras, etc.
The CEO of Solar Liberator, Amalka Elayperuma, describes consumer solar power appliances as an evolutionary next step in solar power systems. This has been achieved through integration of all components (i.e. photovoltaic cells, inverter, backup battery, charge management and control electronics) in to a single hardware platform and using sophisticated software for management and control of the system.
Solar Liberator takes pride in the build quality, aesthetic design and attention to detail in their devices. "I would like to draw an analogy to the shift from traditional dumb phones to smart phones and to the shift from mainframe computers to PCs and mobile devices - a kind of Solar 2.0. " Amalka further said. The vision of Solar Liberator is to "empower individuals to take control of their own energy needs". Amalka likens Solar Liberator to the iPhone of solar power devices. "Solar power is the future. We want to accelerate the process of making it ubiquitous." he said.
Solar Liberator is an innovative new startup focused on research and development of new solar technologies. Its mission is to accelerate the adoption of solar power, by making it simple and affordable to everyone.
More information about Solar Liberator can be found at http://www.solarliberator.com. Please email if you have further inquiries.
Featured Product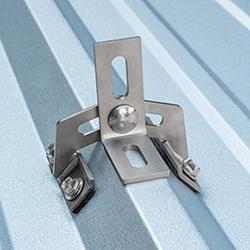 Error-Proof Compression: The QB2 doesn't leave any room for user error when it comes to Microflashing® compression. Once the Dual Drive Shoulder Screw is secured, the Microflashing® is compressed. Only 3 Components: The QB2 is comprised of Microflashing®, an L-foot and a Dual Drive Shoulder Screw. No more Nuts needed to tighten and secure the L-foot! Not only does this simplify the installation process, it also cuts down the installation time.