The project broke ground late in November and is scheduled to be completed in January 2014.
ALBUQUERQUE, N.M., Dec. 12, 2013 -- Unirac, Inc., a Hilti Group Company and leading provider of high quality, competitive PV mounting solutions in North America, has been selected by Green Light Plaster City Solar and ZGlobal, Inc. to provide a 1 MW Ground Mount Tracker (GMT) at the United States Gypsum's (USG) manufacturing facility in Plaster City, CA. The project broke ground late in November and is scheduled to be completed in January 2014.

GMT is efficiently designed to save time and money on the job site. Prefabricated components and pre-panelization of module tables enable parallel construction to decrease total construction time by 25%. Features like slip-on Teflon bearings and beam clips eliminate field welding for ease of installation. GMT's moving components incorporate proven technologies trusted over years of operation under harsh environments, high cycles, and dynamic loads. GMT is also backed by an industry leading warranty.
Jeremy Vaa, President of Green Light Plaster City Solar 1 cites that "GMT's flexible design enabled our expert system engineering firm, ZGlobal Inc. to design around the factory's site constraints, while also meeting our projected budget. He also highlighted, "GMT surpassed all projected labor metrics, power density and flexibility requirements."
About Unirac Inc.
Unirac, a Hilti Group Company is North America's leading provider of infrastructure for solar power systems. Recognized as an industry innovator on both the product and process side we provide the best mounting solutions to our customers through high quality, competitively priced products, responsive customer support, industry leading engineering services and excellence in supply-chain management. Unirac has achieved certifications for ISO 9001:2008 for QMS, ISO 14001:2004 for EMS and OHSAS 18001:2007 for safety. For more information about Unirac, please visit www.unirac.com.
Featured Product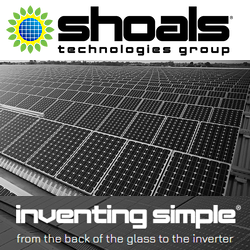 Inventing Simple® isn't just a slogan to us, it's a way of life. Using simple plug-and-play ideology, we revolutionized solar installations in 2003 with our Interconnect System™. Our harnessing system is now the gold standard EPC's use around the world. By using simple ideas, we are making solar energy a more affordable and clean power source for future generations.