Prevents water from entering cable core
FOR IMMEDIATE RELEASE CONTACT: Kristin Nugent
McNeil, Gray and Rice, Inc.
617.367.0100 ext. 148
alatta@gr2000.com
Milford, NH - Hendrix/Kerite Cable (Marmon Utility, LLC.), a premier provider of high-quality underground power distribution products, announces its DUAL BLOCK product. This offering provides a dual water blocking capability on Hendrix primary, underground cable.
Water is one of the enemies of long-life in primary cable, as water entering the cable core can lead to premature failure. Hendrix DUAL BLOCK helps prevent this from occurring. First, a fill compound is continuously applied into the conductor interstices. This prevents longitudinal water migration. Second, a water-swellable powder is applied under the polyethylene jacket. This prevents water from migrating along the neutral wires, under the jacket. Taken together, these two applications provide a reliable barrier that prevents water from entering the cable core.
DUAL BLOCK is an option for all stranded conductor, Hendrix cables.
For further information, please contact your local Marmon Utility LLC representative or visit www.hendrix-wc.com
About Hendrix / Kerite MV Underground Cable
Hendrix / Kerite MV Underground Cable is one of the operating divisions of Marmon Utility LLC. Both Hendrix and Kerite are premier providers of high-quality underground power distribution products, located in Milford, New Hampshire and Seymour, Connecticut. This division will allow customers to have access to both TRXLP and EPR insulation on primary cables through the same sales channel, and is a true integration that will combine the best of both underground cable units. The division's benchmark products are 15kV, 25kV, 35kV primary underground distribution cables.
Both Hendrix and Kerite are ISO 9001-certified and are member companies of The Marmon Group, an international association of more than 125 business units that operate independently within diverse business sectors. Member companies have collective revenues of $7 billion. The Marmon Group is owned by Berkshire Hathaway Inc.
More information about the company is available at www.hendrix-wc.com
Featured Product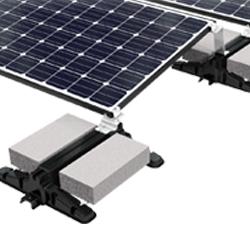 Preformed Line Products introduces the POWER MAX Ballasted Roof Mounting System. The POWER MAX solar mounting system is engineered to maximize energy output on commercial flat roofs. Developed with the professional installer in mind, this system offers adjustable inter-row spacing in the field of up to 11 inches. It features 50% fewer components and a simplified design resulting in faster assembly rates and labor savings on every project. Available in a flush mount, 5˚ or 10˚ tilt or higher density dual tilt design, the POWER MAX base arrives stacked on pallets providing easier transport to the roof. Engineered as a fully ballasted, non-penetrating system, it accepts standard concrete blocks and is qualified by wind tunnel testing.