Four experts in South African wind revealed their views of the market and what strategy they are adopting in its approach. With booming global interest as Chinese and European firms successfully move into the space and as much as 2000MW of approved capacity to date, the emerging market is onshore w
Experts representing four key areas of the onshore community: Utility, Developer, OEM and Investor were quick to point out challenges that lie ahead and what they are doing to solve them. The companies included:

Siemens, Head of Wind, Middle East & Africa, Tom Pedersen
Eskom, Chief Engineer, Riaan Smit
G7 Renewable Energies, Director, Dr Kilian Hagemann
Standard Bank, Head of Renewable Energy Financing, Alastair Campbell
Siemens sited that to; "meet and marry all the various expectations that the government have" is a particularly prevalent challenge, whilst Eskom called for "a consolidation of stronger developers in order to create a more sustainable development pathway." Other issues that were raised by South African developer, G7, discussed the importance of strong relationships with your local communities and how these can quickly rectify any appeals against projects. Standard Bank, one of the leading banks of South Africa went into detail on logistical challenges and how that can affect the legal security of assets.
The full article discusses company challenges, what they are doing to address them and their views of the future of South African onshore wind. Wind Energy Update, the creators of the piece will be providing key leader's opinions on South African onshore wind in the coming weeks. To read the full article, please visit: http://goo.gl/mzOcSr
Featured Product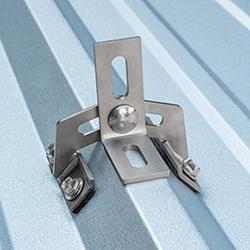 Error-Proof Compression: The QB2 doesn't leave any room for user error when it comes to Microflashing® compression. Once the Dual Drive Shoulder Screw is secured, the Microflashing® is compressed. Only 3 Components: The QB2 is comprised of Microflashing®, an L-foot and a Dual Drive Shoulder Screw. No more Nuts needed to tighten and secure the L-foot! Not only does this simplify the installation process, it also cuts down the installation time.