Leading Field Service Providers Jointly Deliver Nationwide Coverage for Operations, Maintenance
HUNTINGTON BEACH, CA, and ORLANDO, FL December 17, 2013 – True South Renewables Inc. (TSR), a leader in solar Operations and Maintenance (O&M) for residential, commercial and utility scale photovoltaic systems, and Power Pro-Tech Services, Inc. (PPT), a leading service provider for distributed power systems, today announce that the two companies have entered into a joint partnership to deliver field services on a nationwide basis.

The focus of the partnership is to deliver repair and maintenance capabilities for solar photovoltaic (PV) systems, electric vehicle service equipment (EVSE), and other power electronics equipment where both TSR and PPT have expertise. Both companies provide commissioning, maintenance, warranty and repair support across the United States. This partnership will deliver field capabilities to multiple project owners and manufacturers.
A key element of the partnership announcement is that TSR has agreed to absorb PPT field personnel in the Western Region of the United States, where TSR has the strongest concentration of solar and electric vehicle projects today. Specific markets where TSR will assume personnel are Arizona, California and Colorado. To complement TSR's growing East Coast service reach, PPT will begin to fulfill services in Southeastern areas where TSR does not have local field capabilities.
"The demand from our customers to increase our presence and capabilities has encouraged us to enter into this partnership," stated Rue Phillips, CEO of True South Renewables. "We are very pleased to bring on new team members from PPT with such an excellent reputation for service delivery into True South Renewables."
In parallel with TSR acquiring PPT field personal in the West, TSR will start to utilize PPT in the East in order to broaden TSR's service deployment reach and coverage. The strategic alignment between TSR and PPT is part of TSR's new National Technician Dispatch program. As demand for TSR services has expanded from utility-scale and commercial solar projects to include residential solar and EVSE public infrastructure, TSR has developed the National Technician Dispatch program to rapidly capitalize on leading service providers operating in geographic markets where TSR can enhance service coverage for its customers.
"PPT's engagement with TSR's National Technician Dispatch is very exciting for us," added Robert Byrne, President and CEO of Power Pro-Tech Services, Inc. "The expertise that PPT brings to the National Technician Dispatch program is a natural evolution of the expertise that we already deliver for distributed power systems, including generators, switchgear, fuel cells, inverters and photovoltaic systems."
For more information on services from True South Renewables, visit http://www.TrueSouthRenewables.com, or call (714) 908-5266 to speak to a specialist.
About True South Renewables, Inc.
True South Renewables, Inc. (TSR) is the leading independent solar O&M services provider in North America and is a wholly owned subsidiary of Solarrus Corporation. TSR operates both distributed generation and utility-scale solar electric facilities across the US, with over 500MW under O&M, Asset Management, and field service contracts. The company's national headquarters is located in Huntington Beach, CA and has regional offices in Texas and New York. For more information about True South Renewables, visit www.TrueSouthRenewables.com.
About Power Pro-Tech Services, Inc.
Orlando-based Power Pro-Tech Services (www.powerprotech.com) is the largest independent US service provider for distributed power systems, including generators, switchgear, fuel cells, inverters, and photovoltaic systems. Its field engineers leverage the firm's significant investments in equipment, technology and systems to maximize service effectiveness through data-driven service management programs that ensure rapid response in critical times of need.
Featured Product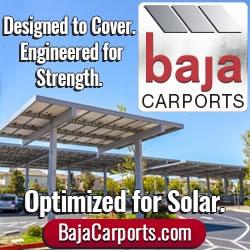 Baja Carports offers an extensive solar support system product line customized to customers' site specifications by in-house engineers, meeting their parking lot coverage, plus optimal PV production needs. Baja's Full Cantilever Tee is often paired with its Semi and Full Cantilever carports to meet live/loads up to 60psf and wind speeds to 160mph. All Baja products are pre-fabricated, bolted connections, pre-galvanized structural steel for fast on-site installation and project aesthetic requirements."