Commission adopts resolution opposing proposed reduction of the RFS for corn ethanol
TUSCOLA COUNTY –The Renewable Fuel Standard (RFS) for corn ethanol reduces our dependence on foreign oil, provides a cleaner, affordable alternative to fossil fuels, reduces gasoline prices and drives economic development, according to a resolution adopted by the Tuscola County Board of Commissioners.

The board unanimously adopted the resolution opposing the U.S. Environmental Protection Agency's recent proposal that would reduce the targets for corn ethanol under the RFS. According to the board, the proposed reduction would have significant negative economic impacts, including "higher gasoline prices for consumers, a higher demand for foreign oil, a reduced incentive for higher blends of corn ethanol and infrastructure, and multi-billion dollar investment losses for next-generation biofuels."
"Ethanol is a car-friendly, clean-burning fuel source that we produce right here in Michigan from corn grown by farmers in our local communities," said David Gloer, general manager of POET Biorefining in Caro. "Tuscola County is home to the first ethanol plant in Michigan. Our community has benefited from new jobs, more investment and rural economic development as a result of the Renewable Fuel Standard. We applaud the Tuscola County Board of Commissioners for standing up for our local farmers, businesses and community and urge the EPA to do the same."
In October, a Michigan State University economic impact report found that eliminating the Renewable Fuel Standard (RFS) would result in $433 million in lost economic activity annually and hundreds of lost jobs in Michigan.
The EPA is accepting public comments on the proposed rule until January 28, 2014. You can learn more, or find out how to submit your comments by visiting the Michigan Corn Growers Association website at www.micorn.org.
Featured Product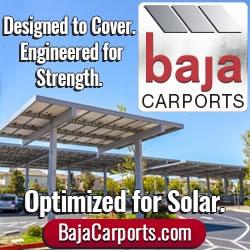 Baja Carports offers an extensive solar support system product line customized to customers' site specifications by in-house engineers, meeting their parking lot coverage, plus optimal PV production needs. Baja's Full Cantilever Tee is often paired with its Semi and Full Cantilever carports to meet live/loads up to 60psf and wind speeds to 160mph. All Baja products are pre-fabricated, bolted connections, pre-galvanized structural steel for fast on-site installation and project aesthetic requirements."