Everyone was very impressed by the state of the art manufacturing lines and the new KACO new energy inverters.
KACO new energy, one of the leading global PV inverter manufacturers, officially inaugurated its new US manufacturing plant in San Antonio, Texas on December 10th. The company celebrated the grand opening of its 40,000 square foot manufacturing space and office with their partners including representatives from OCI Solar Power and CPS Energy as well as KACO new energy executives from all around the world. The San Antonio Chamber of Commerce sent representatives to officially welcome KACO new energy to their city. Ralf Hofmann (CEO, KACO new energy), Volker Heuser (Head of Global Operations, KACO new energy) and Tony Dorazio (CEO, OCI Solar Power) gave inspirational speeches about their visions and the enormous potential that the future holds for their companies not only in Texas, but all across North America.

"KACO new energy and the consortium partners now have successfully finished Alamo I, the first 41 MW system in San Antonio and we are already in the process of building the next solar plants for CPS Energy", says Ralf Hofmann, President of KACO new energy. "Our US manufacturing plant here in Texas is completely set up to supply KACO new energy inverters to any given place in North America. We are very proud to be able to offer US manufactured products to our customers".
Everyone was very impressed by the state of the art manufacturing lines and the new KACO new energy inverters. After the event, CPS Energy, the city's utility, stated on their corporate website: "KACO new energy's clean, almost sterile space is stunningly simplistic for what you would expect of such a complicated business."
KACO new energy is creating over 72 new jobs at the San Antonio location to support the North American PV market. The positions are part of the 800-plus jobs that will be created in San Antonio to support a 400 megawatt solar project in the area. Additionally, the nationwide KACO new energy service division will operate out of San Antonio as well.
Five solar plants in the San Antonio area will provide CPS Energy access to 400 megawatts of solar power. The KACO new energy Integrated Power Stations (IPS), ensure that photovoltaic energy is pumped into the grid with maximum efficiency and reliability – they resemble the heart of an entire PV system. Alamo 1, the first site with nearly 41 MW, started production in November 2013 and is now able to supply 7,000 households with clean electricity. The whole 400 MW project will successfully be closed by 2016. KACO new energy currently offers its Integrated Power Station (IPS) with 1.1 MW – or the respective single outdoor inverter with 550 kW – and is dedicated to supply the same technological approach at a power of 2.0 MW within the near future.
About KACO new energy
KACO new energy is one of the world's largest manufacturers of grid-tie inverters for feeding solar energy. The company offers a comprehensive range of solar inverters for everything from single-family homes to multi-megawatt solar farms. KACO new energy is based in Neckarsulm, Germany and has been producing inverters with a cumulative capacity of more than six gigawatts since 1999. KACO new energy was the first company in the photovoltaic industry to manufacture inverters (the Powador model) in a completely CO2-neutral way. In addition to grid-tie and battery-based solar inverters, the company also supplies inverters for combined heat and power plants and concentrator modules as well as energy storage systems for solar power plants.
Featured Product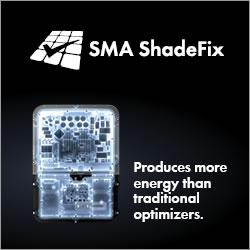 A recent university study showed SMA ShadeFix optimization produces more energy than traditional optimizers. It also utilizes far fewer components, reducing the need for costly service visits. Systems with ShadeFix optimization and SunSpec certified shutdown devices are the ideal solution for residential and commercial PV systems. Visit SMA's website to learn more and download the whitepaper.