REC Solar and Integrated Solar Selected to Build 2.5 MW DC Solar Array in Brattleboro, Vermont
BRATTLEBORO, Vt.--REC Solar, a national leader in solar electric system design and installation, and Integrated Solar, a Vermont renewable energy company, today announced they have been selected to build a 2.5-megawatt DC solar array in Brattleboro, Vermont. The system will be owned and operated by Winstanley Enterprises, a New England property owner. The project is a key part of Vermont's initiative to reach 55 percent renewable energy by 2017.

"REC Solar's national footprint and 16 years of commercial solar experience, combined with Integrated Solar's local expertise, made them ideal partners to develop this system. By bringing together these two companies, we're on track to break ground on the Brattleboro array this spring," said Adam Winstanley.
REC Solar will serve as the lead contractor on the project, while Integrated Solar will install the system. When the 8,300 panel array is complete, it will be one of the largest solar energy projects in Vermont.
"This system will provide enough power to bring clean electricity to meet nine percent of Brattleboro's annual energy needs – 40 percent during peak hours – while fueling local construction jobs," said Andy Cay, president and owner of Integrated Solar. "REC Solar's extensive experience developing commercial projects under a wide range of environmental conditions make them a great partner to build this system."
"This project will play a critical role in helping Vermont reach its ambitious renewable energy goals," said Cary Hayes, director of business development for REC Solar. "We're honored to have been selected to develop the system, and we're looking forward to working with a strong and experienced local partner, Integrated Solar, to get it online."
Under Vermont's Sustainably Priced Energy Development (SPEED) Program, all of the renewable energy produced by the system will be purchased through a feed-in tariff. The SPEED program was created to help Vermont reach its renewable energy goals, which require that utilities purchase 55 percent of their electricity portfolio from renewable energy by 2017, and 75 percent by 2032.
About REC Solar, Inc.
REC Solar, Inc., a subsidiary of Mainstream Energy Corporation, is a national leader in solar electric system design and installation. Focused on making solar affordable and simple, REC Solar specializes in residential, business, government and utility projects, offering a local presence in all major solar markets in the U.S. By providing innovative products, efficient processes and integrated services, REC Solar is committed to delivering high-quality systems while lowering the cost of solar power for all. In 16 years of business, REC Solar has installed more than 11,000 residential and commercial systems nationwide in excess of 160 megawatts. For more, visit RECSolar.com or call (888) 657-6527.
Featured Product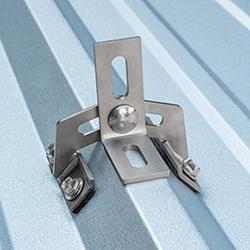 They have been changing the game for 10 years with their original Top Mount line for Asphalt Shingle roofs, and by now supplying one of the widest ranges of solar mounts in North America. From their patented products, to the custom production services they offer, QuickBOLT has been working with solar installers for nearly a decade to make solar installations easier than ever before.