Roxtec seals provide complete safety solutions for long-term, cost-effective operational reliability for both Onshore and Offshore Wind Farms.
The demand for speed, safety and long-term reliability is increasing on today's wind farms, so the importance of a complete offering like Roxtec's modular-based sealing system is ever-greater to fit into applications where cables and pipes exist. From the owners to the contractors, project value is why our customers are choosing Roxtec seals for their applications. Roxtec seals are classified for fire resistance, and ensure certified protection against gas, water, rodents, shocks, vibrations, noise, and electro-magnetic disturbance.
Multidiameter™ by Roxtec, is an adaptable sealing solution based on a rubber-sealing module that consists of two halves, a center core, and removable black and blue layers. This construction ensures adaptability to different sizes of cables and pipes. The flexibility to peel layers ensures a proper fit for all cables. A single module can seal a cable or pipe over a span of several different diameters simply by removing layers from the module halves. Easily installed Roxtec modules are used in combination with a frame and a mechanical compression unit, resulting in an optimum sealing solution suitable for wide-ranging industry applications.
Roxtec's sealing system for Converters and Drives incorporates a single design that can adapt to both copper and aluminum core cables. Whether your concerns are cable density, high temperature, EMC or just a more reliable system, Roxtec has the solution. The sealing system has fewer parts, which simplifies design, logistics, and installation.
roxtecwind2.jpg
Control Cabinets in the Nacell. The Roxtec sealing system allows designers to plan for future needs and regulations. Electrical installers can add cables and pipes throughout the service life of the turbine, without adding cost. In addition, maintenance and reliability is easy especially when companies can easily have spare parts on site.
Retention Systems below the Nacell:
One of the biggest challenges for the wind industry are the vibrations in the wind turbines. The higher up the turbine, the bigger the challenge is with vibrations. Depending of the direction of the wind the vibrations and loads may "move" inside the turbine. The rubber in the modules is softer than the outer jacket of the cable and therefore a retention or fixing system with the modules supporting the cable extend the lifetime of the cables. If the clamp system is made of harder material than the outer jacket of the cable the clamp might damage the cable and thereby increase cost for service and maintenance.
roxtecwindtrans1.jpg
roxtecwindtrans2.jpg
Transformers and Technical Shelters:
When Rodents or Water are creating downtime at the sight, Roxtec needs to get involved to specify a solution that will protect your employees as wells as internal assets.
For more information, please contact Bret Caywood, North American Segment Manager, Wind Power at 763-458-5999 Or via e-mail bret.caywood@roxtec.com.
About Roxtec and Multidiameter™
Swedish Roxtec Group is the world-leading provider of flexible modular-based cable and pipe seals. The company's invention for adaptability to cables and pipes of different sizes is called Multidiameter™. The solution is based on sealing modules with removable rubber layers, which allows for a perfect sealing, regardless of the outside dimension of the cable or pipe. The technology simplifies design and engineering, speeds up the installation process and reduces the need for stock, material and logistics. It also provides built-in spare capacity for easy retrofit and future upgrades. Roxtec serves and supports customers in more than 70 markets through 18 subsidiaries and a network of distributors.
For more information, please visit www.roxtec.com.
Featured Product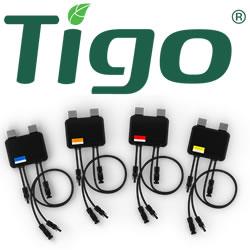 Tigo will announce the new product launch of the patented UHD-Core TS4-A (Advanced Retrofit/Add-on) Platform at SPI 2019. The new TS4-A-M (Monitoring) & TS4-A-S (Safety) units have improved lightweight hardware and lower labor costs to address a range of functions and budgets. The TS4-A-M allows module-level monitoring via Tigo's SMART Website & App. The TS4-A-S is UL-certified as a rapid shutdown solution for residential and C&I PV system. Both units join the Tigo's multivendor solution that works with almost any inverter and smart module in the global PV market. Contact sales@tigoenergy.com for pricing, shipping, and availability in Q4'19.