Upstart solar company crosses 2.5 MW mark in less than two years in the Texas and California markets.
Austin, TX December 28, 2013

Revolve Solar reached the milestone of over 2.5 megawatts (MWs) of distributed photovoltaic (PV) solar systems in the company's first 19 months. In an era when 24 of the 50 U.S. states are not producing enough electricity to meet demand, Revolve Solar is aggressively moving forward to decrease dependence on overworked and outdated energy sources.
As a company, Revolve Solar utilizes a grassroots approach to their energy systems, a philosophy that permeates their localized sales and service teams, as well as their industry-leading equipment and systems. Revolve uniquely designs systems for home and commercial settings with the continued evolution of energy use in mind.
"We regularly hear from potential customers that they are tired, and even scared of the instability of current local utility systems," said Jerret Goodale, National Sales Director, based in Redding, California.
Revolve offers loan, lease, and purchase options to customers in order to make solar power more accessible. Its experienced team provides unbeatable customer service through the design, installation, and maintenance processes. The average system size is 7 kW.
Revolve will continue sales in Texas and California, and will pursue new markets as well, increasing its sales force appropriately. "The growth that we've seen this year just confirms that the market for solar is hot, and that customers are eager to regain control of their energy use," said Chief Executive Officer Tim Padden. "We're offering an opportunity to think about energy differently, in communities where customers are ready for it."
Operations Director, Ryan Tolley credits much of the swift and early success of the company to its commitment to education. "Much of what has gotten us to this point so quickly is the extensive education and outreach we do in the communities we serve."
Revolve Solar offers a packaged approach to residential and commercial solar systems to customers with an interest in reducing energy costs and investing in a clean energy future.
Featured Product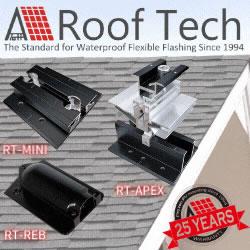 Now Roof Tech brings you the most innovative, watertight mounting systems ever developed for solar photovoltaic systems. Designed and manufactured exclusively for us by Japan's longtime leader in roofing technologies, Roof Tech products are 100% code-compliant and offer fast, simple installation and huge savings on shipping costs due to their compact, rail-less design. Learn more about our full line of versatile PV mounting solutions now available for residential installations. The next generation in rooftop solar mounting solutions."