Kingspan Solar Thermal and Commercial Rainwater Harvesting systems help Architects, Engineers and Designers boost LEED® points at 2014 AHR Expo
JESSUP, Maryland (January 2, 2014) – The U.S. Green Building Council promotes cost-efficient, energy-saving building practices via a global LEED®, or Leadership in Energy & Environmental Design, points program for Architects, Engineers, Designers and Property Owners engaged in green activities. Kingspan Environmental is set to score big points of its own among those stakeholders by demystifying the LEED® project certification and points-accrual process at the 2014 AHR Expo in New York City.

"The Air Conditioning, Heating and Refrigeration Expo is a great place for us to meet face-to-face with Architects, Engineers, Designers and others interested in reducing costs and safeguarding resources through sustainable building technologies," says Seamus Cussen, commercial director for Kingspan in Jessup, Md "We're very excited to show our solar thermal solutions as well as the rainwater harvesting systems which will be launched at the Expo!"
"The commercial rainwater harvesting systems alone earn property owners LEED® points in multiple credit areas," explains Cussen. "In addition, they provide as much as 85 percent of the water needed to run high-performance buildings efficiently and effectively – with maintenance and run costs so low that most clients experience radical savings."
Cussen says the company's rainwater harvesting systems fit seamlessly into existing pipe work and suit a wide variety of applications which include, but are not limited to: universities, hospitals, airports, sports arenas, shopping centers and hotels.
The Expo will be held Jan. 21-23, 2014, at the Javits Center on Manhattan's west side. The center itself has undergone major renovation in recent years, complete with a green roof that is said to be "the largest in the Northeast". Representatives from Kingspan Environmental will engage attendees at booth # 6002 and be on hand to explain:
*Why LEED® certification and credits matter to Architects, Engineers, Designers, etc.
*How Kingspan Environmental helps fill LEED® requirements in USGBC Sustainable Site, Water Efficiency, Energy & Atmosphere and Innovation in Design categories
*The built-in economic/environmental benefits of Kingspan Solar Thermal Systems and Commercial Rainwater Harvesting Systems
Kingspan Environmental, a division of Kingspan Group, is one of the world's largest and most experienced providers of sustainable building technologies. The company has a proven track record of success and offers a comprehensive range of solutions which produce results across any application.
Architects, Engineers, Designers and others interested in learning more about LEED® certification, credits and Kingspan's full line of sustainable building technologies should call Seamus Cussen directly at (410) 799-6602 or visit KinspanEnviro.com.
Featured Product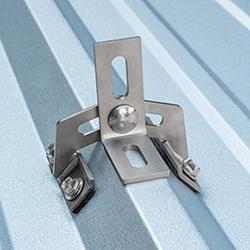 They have been changing the game for 10 years with their original Top Mount line for Asphalt Shingle roofs, and by now supplying one of the widest ranges of solar mounts in North America. From their patented products, to the custom production services they offer, QuickBOLT has been working with solar installers for nearly a decade to make solar installations easier than ever before.