Leading Belgian solar company to install high-quality modules in UK
ISMANING, Germany--Hanwha SolarOne Co., Ltd. (the "Company", or "Hanwha SolarOne"), a top-10 global photovoltaic manufacturer of high-quality, cost-competitive solar modules, today announced that it will supply 11.5 MW of high quality solar modules to Ikaros Solar Belgium NV (the "Ikaros Solar"). The modules are scheduled for delivery in January and February 2014. Ikaros intends to install the modules in a solar park in Norfolk County, United Kingdom. Hanwha SolarOne will supply its 72-cell module HSL-72, characterized by excellent real-life performance and extended durability.

Ikaros Solar operates as a project planner and wholesaler and is active in both large-scale and rooftop segments. Based in Belgium, Ikaros Solar has evolved into an international company with a global network of offices. Hanwha SolarOne has delivered high-quality PV modules to a number of solar projects constructed by Ikaros Solar.
"In Hanwha SolarOne, we have found a partner that can ensure both high quality and financial stability," said Yves Devis, CEO at Ikaros Solar. "The PV modules from Hanwha SolarOne have demonstrated high performance and durability in our past projects. With the improved features of the new HSL-module series providing further benefits, Hanwha SolarOne was a natural choice for our latest large-scale project."
"This project is the result of a strong, long-term collaboration with Ikaros Solar, a leading solar company in the Benelux region," said Laurent Bodin, Director Sales France and Benelux at Hanwha SolarOne. "The partnership is based on mutual respect between two reliable companies that share the highest quality requirements. We look forward to contributing to more successful Ikaros projects in the future."
Ikaros intends to start the construction of the new solar park in January 2014 and connect the new solar park to the grid by the end of March 2014. The solar park will include 38,334 modules supplied by Hanwha SolarOne.
About Hanwha SolarOne
Hanwha SolarOne Co., Ltd. (NASDAQ: HSOL) is one of the top 10 photovoltaic module manufacturers in the world, providing cost-competitive, high quality PV modules. It is a flagship company of Hanwha Group, one of the largest business enterprises in South Korea. Hanwha SolarOne serves the utility, commercial, government and residential markets through a growing network of third-party distributors, OEM manufacturers and system integrators. The company maintains a strong presence worldwide, with a global business network spanning Europe, North America, Asia, South America, Africa and the Middle East. As a responsible company committed to sustainability, Hanwha SolarOne is an active member of the PV Cycle take-back and recycling program. For more information, please visit: www.hanwha-solarone.com.
About Ikaros Solar
Ikaros Solar, headquartered in Schoten, is one of Belgium's top companies operating in the PV market. It provides PV solutions for companies and the residential market. In addition, it is a wholesaler for certified installers. It offers its clients a total service during the selection and installation of solar energy and for maintenance and monitoring afterwards. Ikaros Solar was founded in 2006 and has evolved into an international company with offices in Belgium, Great Britain, Portugal, India, Mexico and Turkey. Ikaros Solar has installed more than 2,000 private PV systems and supplied installations to many public authorities and companies including IKEA, Carrefour, Philips, Janssen Pharmaceutica, DP World and Molenbergnatie. Furthermore, Ikaros Solar has partnerships with certified installers for the private sector. For more information, please visit: http://www.ikaros-solar.eu/
Featured Product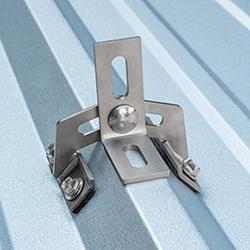 They have been changing the game for 10 years with their original Top Mount line for Asphalt Shingle roofs, and by now supplying one of the widest ranges of solar mounts in North America. From their patented products, to the custom production services they offer, QuickBOLT has been working with solar installers for nearly a decade to make solar installations easier than ever before.