Join us on 28-29 January 2014 and enjoy informal discussions, interactive Q&As, a facility tour (AVL full-vehicle test bed), an evening cocktails reception, complimentary meals, networking, and much more. Event includes an exclusive Venture Panel focusing on the battery industry.
January 2014 Battery Seminar

When: January 28 & 29, 2014 (2 days)
Seminar - Courtyard Marriott, 27492 Portola Parkway, Foothill Ranch, CA 92610
Facility Tour & Cocktail Reception (only 3 miles away) - AVL North America Inc., 25111 Arctic Ocean Drive, Lake Forest, CA 92630
AVL is a proud supporting organization for this event.
--------------------------------------------------------------------------------
This event includes:
1. A technical deep dive with no sales or marketing pitches by an industry veteran electro-chemist - Dr. Paul Gifford - on several aspects of battery design, raw materials, and some recent advances in anodes, cathodes, electrolytes, and other components used mostly in Li Ion batteries. This will also be an excellent opportunity for systems engineers and applications engineers to understand pros and cons of several types of battery chemistries available in the market today
2. An exclusive half-day Venture Panel where top tier VCs, Angel Investors & Senior Executives will discuss key issues facing Investors and Startup CEOs alike in the battery and energy storage industries. If you are an investor seeking access to new early stage deals, or a CEO or Founder of a new venture looking for funding, visibility and growth, this is an event that you do not want to miss!
3. An exclusive half-day technical track on micro and mild hybrid automotive battery systems (12 and 48 Volt), and
4. An evening cocktail reception along with a tour of AVL California Technology Center (which includes a full vehicle test bed), along with an opportunity to interface with their electric drive and power-train development experts
Guest speakers for this Battery Seminar come from A123 Systems (A123 Venture Technologies), AVL, CAP-XX, Enevate, Johnson Controls (JCI), Leyden Energy, Meikle Capital, Netzsch Instruments, Pangaea Ventures, PowerGenix, Siemens Automation Systems, TeckQuest Consulting, Valence Technology, Wildcat Discovery Technologies, and more.
--------------------------------------------------------------------------------
For additional details, complete program agenda and seminar registration form please visit:
http://plugvolt.com/blog/category/seminars/
Questions? Visit www.plugvolt.com for more details, or contact us at info@plugvolt.com or 1-877-PLUGVOLT (1-877-758-4865)
Featured Product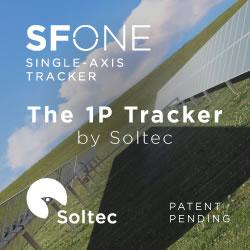 Soltec manufactures and supplies solar trackers designed and proven for extreme climate conditions, which is an ideal solution for any region's environment. Soltec's trackers are self-powered, requiring no additional PV module or grid-powered connection. Bifacial modules collect energy on both the front and rear sides, capturing reflected irradiance from the ground surface under and around the tracker and from other modules. Depending on site conditions, bifacial yield-gain can reach +30 percent.