The global battery industry witnessed good growth during the past decade and holds immense growth potential for the future. The global market size for batteries is expected to reach $86.6 billion by 2018.
The global battery industry witnessed good growth during the past decade and holds immense growth potential for the future. The global market size for batteries is expected to reach $86.6 billion by 2018. The industry is boosted by growing demand of battery in consumer electronic productsand automotive vehicles.Growing demand of electric, hybrid electric, and plug-in hybrid electric vehicles are creating huge growth opportunities for the battery industry.Technological development, increasing disposable income of customers, development of new application for batteries, and decreasing prices of raw materials for manufacturing latest battery products further aided the battery Industry.

Lucintel, a leading global management consulting and market research firm, has conducted a detailed analysis on the various types of batteries manufactured and presents its findings in "TheGlobal Battery Industry 2013-2018: Trend, Profit, and Forecast Analysis." Trends are favorable for growth which should allow for participation by all players. There is a significant difference in growth potential among the application industries and regions, and should yield better returns for suppliers who are positioned well in them.
The report describes the challenges faced by the industry indisposal and recycling of both lead-acid and Ni-MH batteriesas they possess certain environmental issues. Hence, stringent environmental policies are there to govern manufacturing as wellas recycling of such batteries. The industry also requires significant level of capital investments and sophisticated technological capabilities to manufacture lithium-ion batteries.
The report also briefly mentions the major drivers of the industry. Use of lithium-ion batteries in EV, HEV and PHEV are creating enough opportunities for the growth. Demand of lead-acid batteries for SLI (starting, lighting, and ignition) purpose in automobiles contributed significantly in the industry growth. Demand of batteries having more power output with low weight at competitive prices will favor the growth in consumer electronics segment.
This market report discloses the emerging trends of the industry which helps the industry players to get a brief scenario prevailing in the industry. The battery manufacturers should be well aware of the unmet needs in the industry, so that they can fulfill the needs of the industry and increase marketshare. It also provides major drivers and challenges which will help the companies to identify their strengths, find whether they are able to cope up with the challenges, and compete in the market.
For a detailed table of contents and pricing information on these timely, insightful reports, contact Lucintel at +1-972-636-5056 or via email at helpdesk@lucintel.com. Lucintel provides cutting-edge decision support services that facilitate critical decisions with greater speed, insight, and cost efficiency. To learn more, visit www.lucintel.com. Lucintel's Management Consulting Services include Merger and Acquisition, the Due Diligence Process and Target Screening.
Visit Lucintel Product list http://www.lucintel.com/lucintel-product-catalog.htmlto see a complete list of Lucintel reports. Sign up for our free Email Newsletter http://www.lucintel.com/newsletter.aspx.
Featured Product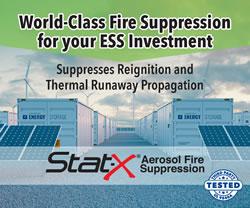 Stat-X® Condensed Aerosol Fire Suppression is a solution for energy storage systems (ESS) and battery energy storage systems (BESS) applications. This includes in-building, containerized, and in-cabinet applications. The Stat-X product was tested for efficacy in putting out Li-ion battery fires. It was found that the Stat-X agent successfully extinguished single and double cell battery fires. This testing was conducted in parallel with a large battery fire testing program. DNV GL Energy conducted the testing and validated effectiveness of the Stat-X aerosol agent on cell level Li-ion battery fires.