Intersolar Europe 2014 introduces renewable heating as new area of focus
Munich, January 09, 2014 – Greater attention must be paid to generating renewable heat if the climate protection targets set in Germany and around the world are to be met. At 40%, the heating market accounts for the largest proportion of energy consumed in Germany and therefore holds considerable potential for the country to reduce its CO2 emissions. Existing buildings and, in particular, their heating systems provide many opportunities for this. In fact, modern heating systems not only lower the amount of CO2 released by fossil fuels but also cause heating costs to decrease considerably. The demands on policy makers to ensure that the heating market plays a more significant role in the energy transition are becoming ever greater, and Intersolar Europe is driving forward developments in this area as well. The exhibition is launching a new area of focus in 2014 that focuses on the trends and complete solutions in the field of renewable heating. A three-day forum on the topic is also set to take place in hall C4 of the exhibition center.

The German government has set itself the target of reducing its country's greenhouse gas emissions by 40% by 2020 and by between 80 and 90% by 2050 (in comparison with 1990's figures). The heating market is expected to play a significant role in these targets being achieved. Only around a quarter of the approximate 20 million heating systems installed in Germany comply with the state of the art and, according to the German Association of Energy and Water Industries, three quarters of these, i.e. a good 15 million heaters, will require modernization by 2020. Against this backdrop, property owners, architects, energy consultants, installers and planners should seriously consider the advantages of renewable heating systems. To help them do just that, Intersolar Europe 2014 is set to provide information on these systems by launching a new area of focus dedicated to renewable heating and by organizing a forum on technology, products and services.
A change in the heating market's underlying conditions
The proportion of heat generated by renewable energy in Germany currently stands at 9.5% and the Renewable Energy Heating Act (EEWärmeG) has set the target for this to rise to 14% by 2020. However, other countries have established far more ambitious objectives. Denmark, for example, is aiming to generate all of its heat by renewable energy by as early as 2035. To achieve this target, a regulation was introduced this year stating that no more oil or natural gas boilers may be installed in new buildings. Moreover, steps must be taken from 2016 to replace the oil boilers found in existing buildings with renewable heat generators.
Legal provisions are also set to make more efficient heating systems compulsory in Germany as well. One example is the European Directive on Nearly Zero Energy Buildings (NZEB), which states that new buildings must only consume a minimal amount of energy from 2020. In addition, the new EU Regulation on eco-design requirements for water heaters and hot water storage tanks – in short, energy labeling – will prescribe that all heating systems fulfill the minimum requirements laid down in the Regulation and bear an energy label. Renewable heating systems will benefit from this new legislation the most.
The cost benefits associated with renewable heating
According to an analysis conducted by the German Renewable Energy Agency (AEE), Berlin, an average three-person household in Germany spends around €1,500 a year on heating and hot water. This is in comparison with the average €996 spent on electricity, the high costs of which are currently prompting heated public debates. Added to this, almost 80% of German households still generate heat using fossil fuels, such as natural gas, coal and oil. The AEE has estimated that people who heat their homes using oil are paying double what they did in 2000. Meanwhile, the price of natural gas has rocketed by 70% in the same period of time. Given such price trends, renewable heating is now not only more environmentally friendly but also more economical than fossil energy sources. Based on a service life of 20 years, the costs of fitting and operating an installation that combines a pellet heating system with a solar thermal system in a single-family home are only around half as much as those incurred by purchasing and maintaining a condensing oil boiler.
The energy transition taking place within the heating market is also worthwhile in terms of the benefits that it would bring to the national economy. According to the research company EnergyComment, Hamburg, Germany accrued net import costs of 93.5 billion euros for importing coal, oil and gas in 2012. This meant that energy imports accounted for 3.5% of the country's gross domestic product last year, a stark increase in comparison to the 1.6% recorded just a decade ago. If, in future, this money were to be invested in expanding renewable heating, it would not only be the environment that would benefit but the economy as well. In fact, the rewards would be reaped across the board, from plant manufacturers to regional tradesmen and installers.
Renewable heating at Intersolar Europe 2014
Intersolar Europe is expanding its range of topics in 2014. In addition to the areas of photovoltaics, PV production technologies, energy storage systems and solar thermal technologies, the world's largest exhibition for the solar industry now includes an area of focus dedicated to renewable heating. The new area not only includes solar heat generation but also covers renewable heating systems, such as pellet and wood-chip heating systems, as well as energy-efficient technologies, such as mini combined heat and power plants or cogeneration systems and heat pumps. In addition, a forum taking place in hall C4 provides the opportunity for in-depth discussions. By extending its areas of focus, Intersolar Europe is aiming to contribute to driving forward the energy transition within the heating market.
Intersolar Europe 2014 takes place from June 4–6 at Messe München.
Further information on Intersolar Europe can be found at www.intersolar.de
Partners of Intersolar Europe
Intersolar Europe is supported by the leading solar industry associations: the German Solar Industry Association (BSW-Solar) as an exclusive partner, the German Solar Energy Society (DGS), the European Solar Thermal Industry Federation (ESTIF), the International Solar Energy Society (ISES), the SEMI PV Group, and the platform for photovoltaic production equipment within the German Engineering Association (VDMA-PV). With the support of the European Photovoltaic Industry Association (EPIA).
About Intersolar
With events spanning four continents, Intersolar is the world's leading exhibition series for the solar industry and its partners. It unites people and companies from around the world with the aim of increasing the share of solar power in our energy supply.
Intersolar Europe takes place annually at Messe München. It is the world's largest exhibition for the solar industry and its partners. In 2013, 1,292 international exhibitors and around 47,000 trade visitors attended Intersolar Europe. The exhibition focuses on the areas of photovoltaics, PV production technologies, energy storage and solar thermal technologies. Since its founding, it has become the most important industry platform for manufacturers, suppliers, distributors, service providers and partners of the solar industry. The accompanying Intersolar Europe Conference consolidates the topics of the exhibition. In 2013, more than 400 speakers and around 2,000 attendees discussed current industry topics and shed light on the background of technological, market and political developments.
Intersolar's storied history of international exhibitions and conferences spans more than 20 years. In 2008, Intersolar North America in San Francisco became the second exhibition after Intersolar Europe. This was followed by Intersolar India in Mumbai, Intersolar China in Beijing and Intersolar South America in São Paulo.
Intersolar Europe is organized by Solar Promotion GmbH, Pforzheim and Freiburg Wirtschaft Touristik und Messe GmbH & Co. KG.
Featured Product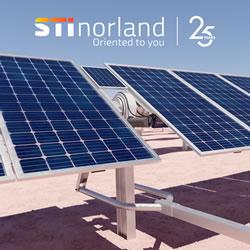 Developed in 2017, the STI-H250â"¢ is consists of two linked torsion beams that rotate simultaneously following the sun's path. They are moved by just one motor, cutting supply and maintenance costs. STI-H250â"¢ dual-row tracker includes backtracking mode to avoid shadowing between adjacent rows and stow function to protect the tracker in extreme wind conditions. For cleaning, vehicles can pass between trackers and each row can be placed in a different position.