Saudi Electricity Company (SEC) has selected CSP to produce electricity with the 550MW Duba 1 project, an Integrated Solar Combined Cycle power plant (ISCC) located 50kmNorth of Duba near Tabuk, on the Red Sea coast of Saudi Arabia. This is the first time CSP has been chosen to be deployed above very small scale in the country.
SEC has called for requests for expressions of interest (EOI) to developers to build, own and operate the Duba 1 independent power plant project to be submitted by 12 January 2014. The 550MW ISCC plant will be the first commercial power plant using CSP in country; designed to integrate a parabolic trough unit of around 20 to 30MW. The plant will burn natural gas and use Arabian Super Light as a backup fuel, but the steam generated by CSP technology will also be used to drive power generation turbines and generate electricity. This is the country's first step to cutting down carbon emission, increasing fuel efficiency and initiating the solar industry in Saudi Arabia.

The request for pre-qualification (RFQ) will soon after the EOI deadline, on the 15th January, be issued. The winning developer is requested to sell the entire capacity and output to SEC under a power purchase agreement (PPA) under which SEC is also allocating land for the project.
There will be a lot of competition as the international CSP community looks to this market for major growth and a lot of regional and international companies have already set up bases there. Saudi Arabia presents both on and off grid opportunities for CSP. Due to high Direct Normal Irradiance (DNI) readings in the country and the needs of industrial companies for lower energy costs, CSP can provide a solution similar to conventional power sources. Saudi Arabia's Saline Water Conversion Corporation (SWCC), for example, has recently announced plans to start using solar energy to desalinate water in the kingdom starting this year.
MENASOL 2014 (6-7 May, Dubai) will gather the world renowned CSP experts to discuss the small scale use of the CSP both on and off grid in the MENA region. Waleed al-Rumaih, Board Director of the National Saudi Transmission Company and Thomas Altmann, Vice President of Technology at ACWA Power will be discussing the industrial applications of CSP in Saudi Arabia. Furthermore, Rod McGregor, CEO of Glasspoint and Petroleum Development Oman will be giving a joint presentation on their pilot CSP for Enhanced Oil Recovery project in Oman.
To learn more about the small scale applications of CSP being discussed at the MENASOL event click here: http://goo.gl/2OhJCo
About CSP Today
CSP Today is the reference point for CSP professionals and a cornerstone for communications within the industry. We provide business intelligence to the industry with focused news, events, reports, updates and information for the Concentrated Solar Thermal Power industry in markets such as India, South Africa, Spain, USA, Chile and the MENA region.
or contact:
Sarah Kingham
CSP Today
sarah@csptoday.com
Featured Product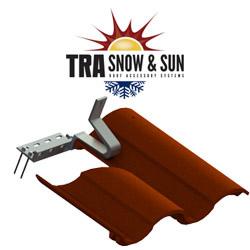 You haven't installed a tile mount that is easier to install than the Solar Tile Mount manufactured by TRA Snow and Sun. Solar Tile Mount is used on all tile roof profiles: flat, mid, and high. It is made in the USA of aluminum alloy for strength and excellent corrosion resistance. Solar Tile Mount is built to allow more ease in installation with more rise from the tile surface to the rail for better air flow below panels. The adjustable base is longer than most allowing attachment 6" to the left or right to have the bracket in the base of the pan of the tile and still fasten to the rafter. Solar Tile Mount is adjustable for counter batten systems from ¾" to 3". The horizontal rail is directly above base fasteners giving greater uplift resistance than any other system. For superior waterproofing apply TRA Snow and Sun's butyl backed VersaFlash aluminum flashing. No tile flashing is needed on top of the tile for greater labor and material cost savings.