Exponential growth in the solar industry and is potentially the energy source of the future
It seems a foregone conclusion that distributed generation is poised for exponential growth in the solar industry and is potentially the energy source of the future. The effect on the market is predictable: improved power reliability, flexibility of supply addition and reduced infrastructure costs.

This has a number of rather significant implications – one of the greatest variables is how the business of traditional electric utilities will adapt. The business of an electric utility relies on its ability to generate, transmit and distribute electricity. A grid where electricity is generated by the customer, meaning that no transmission or distribution will be necessary, is sure to disrupt the role of utilities in the current market.
Whilst it stands to reason that grids, and therefore utilities, will always play a role in power generation markets, if not as primary power producers then as a secondary power-player – perhaps utilities are going to have to change their role in order to survive the DG bloom – estimated to increase by over 10GW globally in the next five years? Perhaps the conclusion may be that utilities will play more of regulatory role in the market in the future, managing the needs of different players on the grid. Ultimately, a large piece of the energy-pie is going to be siphoned away from the utilities and directed back into the pockets of DG clients.
This of course generates a vast number of questions for the solar industry – how is the industry evolving with the development of distributed power generation – will this lead to a total shift in the business model and value proposition of major players in the solar market? At the Solar Power Generation USA '14 Congress, we have recruited Edward Randolph of California Public Utilities Commission to address this very question.
Going one step further, this leads to questions about storage innovation. A question of potential is raised when one considers the ability of storage to completely transform energy markets. Yes! Back-up power from the grid may become obsolete. Yes! End-user customers will be able to monetize their power generation by selling it back to the grid. BUT WHY are utilities not stepping up and leading innovation in the storage market preferring rather to let the technology develop inside the meter, when this could hold serious potential for utilities as power managers. These questions and more will be put to the expert panel of utility speakers at the 2nd Annual Utility Breakfast Briefing.
SPG '14 has asked our expert faculty of speakers, representing all sectors in the value chain to consider the face of the market and how it is evolving, because after six months of in-depth market research, we know that you want to know about the future of the solar industry.
Press passes are available – please contact:
Amber Williams, Marketing Manager SPG'14
Amber.williams@greenpowerconferences.com,
T +1 971 238 0700
About Green Power Conferences
Green Power Conferences is the market leader in renewable energy conferences. Since 2003, over 15,000 delegates have attended more than 300 conferences, exhibitions, workshops and training courses providing strategic business intelligence to the renewable energy and sustainability industries. Green Power's expertise lies in producing high quality, interactive events that provide ample networking opportunities for delegates, sponsors and partners. More information and a full list of current conferences is available at: www.greenpowerconferences.com.
Featured Product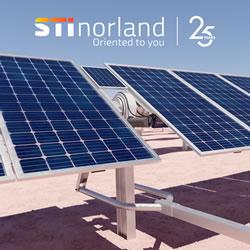 Developed in 2017, the STI-H250™ is consists of two linked torsion beams that rotate simultaneously following the sun's path. They are moved by just one motor, cutting supply and maintenance costs. STI-H250™ dual-row tracker includes backtracking mode to avoid shadowing between adjacent rows and stow function to protect the tracker in extreme wind conditions. For cleaning, vehicles can pass between trackers and each row can be placed in a different position.