Collaboration on Materials Continues to Enhance Solar Cell Efficiency
RESEARCH TRIANGLE PARK, N.C., Jan. 20, 2014 – DuPont™ Solamet® PV18x series photovoltaic metallization paste is helping REC, a leading global provider of solar energy solutions, to develop its most powerful solar panels to date. The achievement is the result of collaboration over the last four years that has focused on optimizing successive generations of materials and manufacturing technologies to work better together.

REC solar panels in a power plant in Alicante, Spain
"Founded in Norway more than 15 years ago, REC is a pioneer in the solar industry. Our products are manufactured using advanced R&D and the most stringent manufacturing standards. Over the years, our care for quality has translated into proven products known for their strong performance," said Ter Soon Kim, senior vice president, Operations and Technology, REC. "REC solar panels now deliver more power per square meter due to several design improvements, including the use of the newest frontside metallization paste provided by our premier innovation supplier, DuPont."
Solamet® PV18x series photovoltaic metallization pastes are developed by and are available only from DuPont Microcircuit Materials (MCM).
REC, which began operations in its state-of-the-art manufacturing facility in Singapore in 2010, and DuPont MCM have been working closely since that time to optimize the combination of solar cell technology and Solamet® paste. Through use of successive generations of Solamet® paste materials, the collaborative efforts have led to improved electrical flow in REC solar cells, which has resulted in higher power output for REC's solar panels. With the most recent generation of Solamet® paste, the PV18x series, REC reports that it has raised the efficiency of its 60 cell multi-crystalline panels in production to 265 peak watts - its highest level yet.
"Constant innovation in Solamet® pastes has been instrumental in ensuring the efficiency improvements and cost effective measures that are moving the solar industry toward grid-parity," said Peter Brenner, global photovoltaics marketing manager, DuPont Microcircuit Materials. "Collaborations with leading companies like REC are critical to the quick delivery of new and improved technologies that fuel further growth in the industry, and for our customers."
DuPont™ Solamet® photovoltaic metallization pastes have helped to enable the conversion efficiencies of mass produced solar cells to nearly double over the past 12 years. Through continued investment in research, development and intellectual property, DuPont continues to focus on increasing solar cell efficiency, extending panel lifetime and lowering overall system costs to make solar energy more competitive with other sources of electricity.
REC is a leading global provider of solar energy solutions. With more than 15 years of experience, REC offers sustainable, high performing products, services and investments for the solar industry. Together with its partners, REC creates value by providing solutions that better meet the world's growing energy needs. Founded in Norway, REC is listed on the Oslo Stock Exchange (ticker: RECSOL) and headquartered in Singapore. REC's 1,500 employees worldwide generated revenues of NOK 4.1 billion in 2012.
DuPont is the leading supplier of specialty materials to the solar industry. More than half of the world's 400 million panels installed since 1975 have DuPont materials in them. To learn more, please visit http://photovoltaics.dupont.com.
DuPont (NYSE: DD) has been bringing world-class science and engineering to the global marketplace in the form of innovative products, materials, and services since 1802. The company believes that by collaborating with customers, governments, NGOs, and thought leaders we can help find solutions to such global challenges as providing enough healthy food for people everywhere, decreasing dependence on fossil fuels, and protecting life and the environment. For additional information about DuPont and its commitment to inclusive innovation, please visit http://www.dupont.com.
Featured Product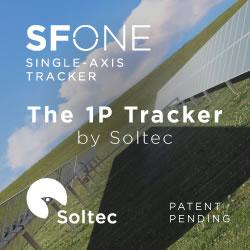 Soltec manufactures and supplies solar trackers designed and proven for extreme climate conditions, which is an ideal solution for any region's environment. Soltec's trackers are self-powered, requiring no additional PV module or grid-powered connection. Bifacial modules collect energy on both the front and rear sides, capturing reflected irradiance from the ground surface under and around the tracker and from other modules. Depending on site conditions, bifacial yield-gain can reach +30 percent.