Stonehill College is expected to complete one of the nation's largest solar installations on a college campus early this year. The 15-acre solar field array made up of 9,000 panels will generate 20 percent of Stonehill's annual electrical usage.
Easton, MA January 20, 2014

Stonehill College, a Catholic, liberal arts college in Easton, MA with more than 2,500 students is expected to complete the 11th (tied) largest solar installation on a college campus nationwide early this year.
The college will host a 15-acre solar field on an adjacent parcel of land, identified as the Davis Ames Clock Farm. This solar array, made up of 9,000 panels, along with the installation of rooftop solar panels on two of its facilities storage buildings will generate 20 percent of Stonehill's annual electrical usage and save the college an estimated $3.2 million over the next 15 years.
According to the Association for Advancement of Sustainability in Higher Education's database, Stonehill's 2.7 megawatt solar project will become the largest solar installation on a college campus in New England. Stonehill's administration adopted a "Stonehill Goes Green" sustainability initiative, which helped drive acceptance of the project on campus and amongst community partners.
"The solar field is an extension to our Catholic commitment to care for creation and sustainability. It gives further indication of our commitment, on every level, to preserving the resources that are in our care for future generations," says Rev. James Lies, C.S.C., the College's Vice President for Mission.
Vice President of Power Management Company New England, LLC, Dr. Kevin Kelly approached Stonehill College about going solar in the summer of 2011. Over the past two and a half years, Power Management collaborated with Solect Energy, a Hopkinton, Massachusetts-based solar photovoltaic (PV) project developer and Marina Energy, a subsidiary of South Jersey Industries, the financing partner, to develop a detailed four phase development plan that will be completed in a matter of months.
Power Management Company, an energy consulting firm which manages over 16,000 commercial and industrial utility meters throughout North America is responsible for overseeing the project in its entirety. Solect Energy broke ground in late 2013 and is building the field array, while Marina Energy was brought in as the financier of the 15 year power purchase agreement and their responsibility lies in owning and operating the field upon its completion. Stonehill College will reap the sustainability and financial benefits from going solar while not bearing any capital risk. The college provides access to the land and rooftops for the term of the 15 year agreement and will gain access to the more economically generated energy from this project.
"This project benefits the college and the community in many ways," said Dr. Kelly. "It supports Stonehill's vision toward sustainability, is expected to save the college a substantial amount of money, offers students and professors the opportunity to learn about green technology, and serves as a model for what I hope are many more projects like this at institutions of high learning throughout Massachusetts."
Upon completion of the solar field array, there will be a screen in the Shield Science Center to monitor the real-time energy output from the project. Those on campus will have a first-hand opportunity to observe the magnitude of energy generated from this project and its benefit to Stonehill College's sustainability goals.
About Stonehill
Stonehill is a selective Catholic college located near Boston on a beautiful 384-acre campus in Easton, Massachusetts. With a student-faculty ratio of 13:1, the College engages over 2,500 students in 80+ rigorous academic programs in the liberal arts, sciences, and pre-professional fields. The Stonehill community helps students to develop the knowledge, skills, and character to meet their professional goals and to live lives of purpose and integrity.
About Power Management
Power Management provides energy management and sustainability services to a diversified customer base. Founded in 1997, Power Management currently manages over 16,000 commercial and industrial utility meters throughout North America, taking energy management to a higher level through a comprehensive process that includes research, recommendation and implementation.
Featured Product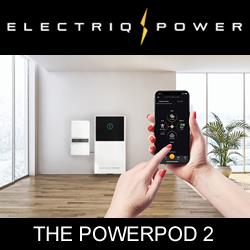 The Electriq PowerPod 2 is a fully-integrated home energy storage, management, and monitoring system powered by LFP batteries. The high-performance, cobalt-free product includes a hybrid solar/battery inverter controlled by intelligent software. The PowerPod 2 provides backup power and can self-consume or export excess power back to the grid.