At the end of December 2013, Volvo Construction Equipment's Braås facility completed its journey towards becoming carbon neutral.
The 45,000 m2 site in southern Sweden, which specializes in the design and manufacture of articulated haulers, is now powered entirely by renewable energy sources – including wind, biomass and hydropower – that neither produce harmful emissions nor contribute to the greenhouse effect.

This momentous achievement follows in the footsteps of the Volvo Group's trucks facility in Ghent which sets the standard for emissions-free industrial manufacturing in 2007. And just as Ghent became the first carbon neutral facility in the automotive sector, Braås too becomes the first in its respective industry.
"As one of our core values, environmental care informs everything we do at Volvo," says Niklas Nillroth, Volvo CE's vice president of Core Value Management & CSR. "So we are extremely proud that the Volvo Group is leading the way, not just in one industry, but two."
Braås' first step towards carbon neutrality began in 1999, when it commissioned local energy supplier Växjö Energi AB to install a district heating plant, fuelled by wood chips, to provide central heating for its employees – and the town's residents. Braås then joined a Volvo Group initiative in 2007 that saw it switch to green electricity (i.e. generated from renewable sources).
These first two initiatives brought the site's level of CO2 neutrality to 87% to 2008, with the final push to reach 100% beginning two years ago. Staff identified the greatest source of energy consumption as the liquefied petroleum gas (LPG) burners, which were used to heat the rust protection treatment ovens to 60°C. These were systematically replaced from September 2013 with district heating. The burners in the component paint shop, which reach temperatures of 120°C, were also altered to electrical heating. In addition, the site's diesel forklifts were substituted with electric battery models.
Meanwhile, locals and the site's 1,000 employees put pressure on Växjö Energi AB to run the district heating plant on biomass only – regular oil had previously also been used during peak times and maintenance.
"This is a tremendous achievement driven by the dedication and tenacity of employees at Braås," says Nillroth. "But we couldn't have achieved it without the ready availability of green power in Sweden and the support of our local community."
Continued commitment
The next step is to focus more on energy saving activities – in particular, reducing the idling consumption at the site. One initiative will involve recycling waste heat from the treatment ovens and burners and using it to heat the buildings. "Environmental care has, and will always be, a top priority for Volvo CE, and while Braås may be the first premises to achieve CO2 neutrality, all our sites are heading in the right direction, creating incremental improvements to our global footprint every day," says Niklas Nillroth.
- See more at: http://news.volvogroup.com/2014/01/17/volvo-ce-braas-facility-achieves-co2-neutrality/#sthash.dUeNF4K2.dpuf
Featured Product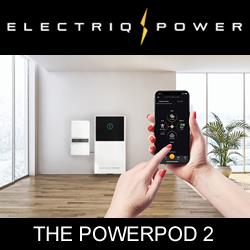 The Electriq PowerPod 2 is a fully-integrated home energy storage, management, and monitoring system powered by LFP batteries. The high-performance, cobalt-free product includes a hybrid solar/battery inverter controlled by intelligent software. The PowerPod 2 provides backup power and can self-consume or export excess power back to the grid.