Miyagi Prefecture and Ohiramura local government formalize location for technologically-advanced CIS solar module factory
Tokyo-January 21, 2014 -Solar Frontier announced today that it has signed the site agreement for its fourth CIS module plant in Japan, the Tohoku Plant, with the Miyagi prefectural government and the Ohiramura local government. The signing ceremony was attended by the governor of Miyagi Prefecture and the mayor of Ohiramura, where the new factory will be located.

The Tohoku Plant will introduce Solar Frontier's latest mass-production technology, capable of delivering higher efficiency CIS thin-film modules at world-class production cost. Construction is set to break ground in March 2014, with commercial operations scheduled to start in March 2015. Products manufactured at the Tohoku Plant will primarily be sold in the local region.
"Solar Frontier's Tohoku Plant will contribute to the economic revitalization of Miyagi Prefecture, creating new job and business opportunities," said Yoshihiro Murai, Governor of Miyagi Prefecture. "I am confident it will promote green businesses and the development of clean, renewable energy in Miyagi and across the region."
Solar Frontier's fourth manufacturing plant represents the company's latest step toward its mid-term growth vision.
"Our CIS modules have gained a reputation for generating more kilowatt-hours in actual operating conditions than crystalline modules, while we maintain high quality standards from our production bases in Japan. The Tohoku Plant will harness our latest technology to produce high efficiency CIS modules and will serve as a blueprint for our future mass production facilities outside of Japan," said Hiroto Tamai, President and Representative Director of Solar Frontier. "Miyagi Prefecture put us on the path toward new global growth."
About Solar Frontier
Solar Frontier K.K., a 100% subsidiary of Showa Shell Sekiyu K.K. (TYO:5002) ("Solar Frontier"), has a mission to create the most economical, ecological solar energy solutions on Earth. Building on a legacy of work in solar energy since the 1970s, Solar Frontier today develops and manufactures CIS (denoting copper, indium, selenium) thin-film solar modules for customers in all sectors around the world. Solar Frontier's gigawatt-scale production facilities in Miyazaki, Japan, integrate compelling economical and ecological advantages into every module: from lower energy requirements in manufacturing to the higher overall output (kWh) of CIS in real operating conditions. Solar Frontier is headquartered in Tokyo, with offices in Europe, the U.S.A., and the Middle East. Visit www.solar-frontier.com for more information.
Featured Product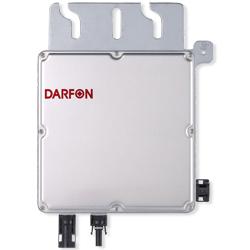 The Darfon G320 is the microinverter solution for today's high-power solar modules. The G320 handles 60- and 72-cell modules up to 350W DC and outputs up to 300W AC. The G320's 3-phase configuration accommodates the electrical distribution systems of most commercial buildings and to reduce, if not eliminate, the need for expensive transformers. The G320 comes in four voltage/phase configurations, so it can be installed in residential, commercial or utility applications.