Innovative Solar Powered LED Street Lights to Usher in a New Era
Green Choice LED today announced it has been selected to complete the solar powered LED street light project for the City of Shenandoah, TX. The project consists of designing, manufacturing, and installation of 81 solar powered LED street lights for the city's Shenandoah Valley subdivision. The Shenandoah City Council voted to go with solar powered LEDs over traditional street lights after researching the idea.

LEDs have extremely long lives and do not contain toxic materials like traditional street lights. Additionally, Green Choice LED has a patented lens design that allows for fewer lights to project normal standard lighting levels. According to Green Choice LED CEO Jeremy Sampson, "The operating cost for a solar street light is zero and the maintenance cost is mini­mum, which only consist of changing the battery every 10 years." Jeremy goes on to add, "This is one of the first projects of this kind, an entire city's neighborhood will be powered by solar powered LED streetlights."
The US Department of Energy has taken measures to phase out the production of toxic incandescent light bulbs in favor of more energy efficient alternatives, such as LEDs. This phase out will be completed by 2016 and is part of the Energy Independence and Security Act of 2007. As a result, many businesses and organizations are taking a proactive ap­proach and planning accordingly for their future lighting solutions.
Green Choice LED has 120 days to complete the project, but according to CEO Jeremy Sampson, he estimates the pro­ject will finish ahead of schedule and within 90 days.
About Green Choice LED
Green Choice LED, a Texas Solar Resources company, is an industry leader in energy-efficient LED lighting applica­tions. Green Choice LED designs and manufactures commercial grade LED products, such as street lights, tunnel lights, flood lights, and explosion-proof LED fixtures.
Green Choice LEDs research and development team hold over 21 proprietary patents with innovative breakthroughs in high power LED optical systems, heat-sync design, and intelligent control driver systems.
Green Choice LED certifications include CE, RoH, DLC, UL, and explosion proof LEDs are ATEX certified. Professional affiliations include Dark Sky, ASSHE, SEPA, IES, and Made in the USA.
To learn more about Green Choice LED, please contact:
Shon Mattox
109A Laurel Drive
Friendswood, TX 77456
(281)846-4968
Admin@TexasSolarResources.com
Featured Product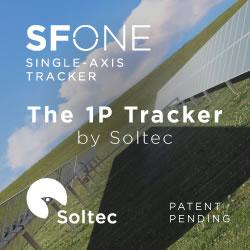 Under the slogan "engineered for greatness", the SF8 tracker aims to revolutionize the photovoltaic market with its new minimum 2x60 configuration and 4 to 6-strings. This tracker is elegantly designed while it reinforces its structure to perform in any terrain. In addition, the SF8 tracker increases the rigidity of its structure by 22% more than the previous generation of Soltec trackers, the SF7. The SF8 is specially designed for larger 72 and 78 cell modules, an increasing market trend.