The organization will now conduct business as the Energy Storage Association (ESA) and Matthew Roberts, a former House staff member and expert in energy policy, will lead the ESA as its new Executive Director.
Washington, D.C. – The start of 2014 marks the culmination of extensive planning and preparation for the energy storage industry's national trade association, and today the association announced a new name, new leadership, and the launch of a new website. The organization will now conduct business as the Energy Storage Association (ESA) and Matthew Roberts, a former House staff member and expert in energy policy, will lead the ESA as its new Executive Director. The new website features more useful and current information to help association members, policymakers, and the media understand the value proposition of deploying energy storage technologies.

"This is a transformative time for energy storage in the U.S. and globally," stated Darrell Hayslip, Chair of the ESA's Board of Directors. "As demand for a more resilient, responsive, and efficient grid advances, ESA is committed to continuing our work with stakeholders from across the energy industry to drive new markets for energy storage technologies and advocate for fair, competitive regulation. Our new name, new website, and the hiring of our first ever full-time Executive Director reflect the dynamic environment we see happening in our industry in 2014 and beyond. As the only member-driven association for energy storage companies and partners, we're also pleased to welcome Matt Roberts as our new Executive Director, who will provide critical leadership during a period of rapid industry growth as the face of our organization and through day-to-day management of all of our member-led activities."
The new name and branding better reflects the organization's diverse coalition of member companies, non-profits and individuals; and the organization's commitment to representing the interests of all forms of energy storage. To complement this renewed focus, the organization also completed the development and launch of an updated website and online resources at www.energystorage.org. "Our updated website is a platform for ESA to have an even greater impact on markets, policy and technology, and will serve as a hub of information for visitors and a repository of resources for our members," noted Mr. Hayslip.
"It is a privilege to be chosen as this organization's Executive Director," said Mr. Roberts. "The ESA is a dynamic coalition, with an engaged and active membership that is growing every day. I look forward to working closely with the Board of Directors and all of our members to continue to build upon recent successes as the organization continues to evolve over the coming years. Energy storage is critical to the development of a smarter, more responsive energy grid and an essential component for the increased deployment of renewable energy technologies. 2014 will certainly be a banner year for our industry and our organization."
Before joining the ESA, Mr. Roberts led government and public affairs for the Methanol Institute – a global trade association focused on the deployment of advanced transportation fuels. Mr. Roberts has also worked closely with the renewable energy industry as a consultant for the past 10 years – focusing on solar, wind and geothermal technologies.
ESA leadership – Darrell Hayslip, Chair of the Board; Katherine Hamilton, ESA's Policy Director; and Matt Roberts, new ESA Executive Director – will host a teleconference this afternoon and answer questions from the media.
Call Details
Date: 1/23/2014
Time: 3:30 PM
Call Number: 866-740-1260
Passcode: 5309740
To learn more about the Energy Storage Association, please visit www.energystorage.org.
Featured Product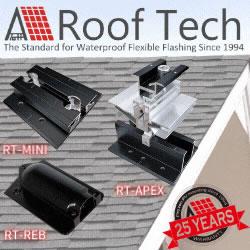 Now Roof Tech brings you the most innovative, watertight mounting systems ever developed for solar photovoltaic systems. Designed and manufactured exclusively for us by Japan's longtime leader in roofing technologies, Roof Tech products are 100% code-compliant and offer fast, simple installation and huge savings on shipping costs due to their compact, rail-less design. Learn more about our full line of versatile PV mounting solutions now available for residential installations. The next generation in rooftop solar mounting solutions."