The announcement of the UCEF is timely and in line with the advancement of decentralised energy initiatives across the UK.
London, UK – Monday 27 January, 2014 – The Department of Energy and Climate Change (DECC) today announced a £10 million fund for urban communities; the Urban Community Energy Fund (UCEF) – to run alongside the Rural Community Energy Fund (RCEF) of £15million, announced in June 2013.

This Fund allows local communities to apply for up to £150,000 towards their own community renewable energy projects, and the Fund is aiming to grow the number and size of these projects to the stage where one million homes are powered by 'home-made' generation by 2020.
There will be two stages of funding, as per the RCEF. The first stage allows applications for grants of up to £20,000 for feasibility studies, and the second allows applications for loans up to approximately £130,000 to support planning applications and develop a strong business case to attract further investment.
The announcement of the UCEF is timely and in line with the advancement of decentralised energy initiatives across the UK. With concerns around energy security, fuel poverty and increasing carbon emissions, it's never been more pressing to update and diversify the UK's energy model. Greg Barker, Energy and Climate Change Minister has been consistently vocal on this area, telling the Conservative Party Conference in September 2013, "The Big Six need to become the Big 60,000." This Fund marks another step along that road.
Community energy or decentralised energy schemes are not new, cities across Europe such as Malmo, Copenhagen, Helsinki, Oslo and others have already moved to a decentralised energy model with huge benefits – heating entire cities with a source that goes to waste in other systems. The driver for the success of these projects has been long term, stable policy – with this latest announcement from DECC, there are clear signs that this is a priority for the Coalition Government.
"The Coalition is determined to unleash this potential, assist communities to achieve their ambitions and drive forward the decentralised energy revolution. We want to help more consumers of energy to become producers of energy and in doing so help to break the grip of the dominant big energy companies." Said Ed Davey, Secretary of State for Energy and Climate Change, DECC of this announcement.
To learn more about the potential of this area for your community, attend Decentralised Energy 2014 (www.decentralisedenergy.co.uk), taking place in London – May 13th, and join 200+ Government, local authorities, corporate entities, technology solution providers, utilities, housing developers and financiers to discuss key issues around community energy projects. Hear case studies from those who have completed successful projects (Greater London Authority, City of Helsinki), build suitable business case components from feasibility to delivery (IKEA, Waitrose), understand which technologies are fit for purpose, future proof your plans, access investment and understand how partnerships can ease the way (Pure Leapfrog).
Featured Product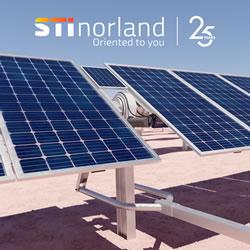 Developed in 2017, the STI-H250™ is consists of two linked torsion beams that rotate simultaneously following the sun's path. They are moved by just one motor, cutting supply and maintenance costs. STI-H250™ dual-row tracker includes backtracking mode to avoid shadowing between adjacent rows and stow function to protect the tracker in extreme wind conditions. For cleaning, vehicles can pass between trackers and each row can be placed in a different position.