Start-up fund company and private investor invest in Milk the Sun platform
Berlin, Germany, 29.1.2014 – Gründerfonds Münsterland start-up fund company and strategic investor Howaldt Energies invest in Milk the Sun as part of a capital increase. Operating under www.milkthesun.com, the company is the world's largest open online marketplace for buying and selling photovoltaic systems. Milk the Sun will use this raised capital and strategic support from its new partners to advance its worldwide business expansion and drive forward the development of new branches. The company presents solar projects located across the whole of Europe as well as in North America, Latin America, Africa and Asia.

"We see great potential in up-and-coming company Milk the Sun. In a short space of time, the platform has expanded its business from the core markets of Germany and Italy to cover the whole of Europe, developing into an internationally positioned solar trading platform," explains co-investor Kai Howaldt, former Senior Partner at Roland Berger. Marcel Vonnahme, Investment Manager at eCAPITAL AG, which manages Gründerfonds Münsterland, says: "With support from the Milk the Sun management team and co-investor Howaldt Energies, we now want to successfully and majorly expand into the international growth market. By offering attractive rates of return, we also hope to establish photovoltaics as an asset class."
"We are delighted to be joined by our new partners, financially strong entities with industry experience. We already offer a wide range of solar projects worldwide. Now it's time for our portal to become even more international," explains Felix Krause, CEO of Milk the Sun. In 2009, he co-founded a company that develops solar projects in Germany and the UK. When he realized just how many intermediaries solar projects on the market had to go through, he teamed up with three partners to create the Milk the Sun platform, which provides a quicker and efficient way of bringing together project developers, investors and roof and land owners. "Our portal works in a very simple and transparent way. It's free to post projects and find the right investor. We stand out from competitors because users are free to view commercial and technical details of solar installations on the website. Users don't have to register before being able to browse the virtual marketplace. Registration is only necessary for those wishing to trade or obtain project contact details. In this case, they must prove themselves as potential investors," continues Krause.
In addition to offering project rights, the online platform focuses on the purchase and sale of existing solar installations. Milk the Sun presents installation projects and, via a partner network, offers further services related to the life cycle of photovoltaic installations, such as insurance, technical and commercial system operation and legal consultation. Solar projects can be posted free of charge with no obligations. Milk the Sun only receives a commission calculated on the basis of the system's output following a successful business deal. Customers include land owners, project developers, system owners and investors looking to get involved in an environmentally friendly installation. Trading mainly revolves around medium-sized photovoltaic installations with outputs from 30 kilowatt peak (kWp) to 5 megawatt peak (MWp), with larger systems and entire portfolios presented on the platform's closed marketplace Utility Scale Network.
About Milk the Sun
Milk the Sun operates the world's largest open online marketplace for photovoltaic installations. Project developers and operators can post solar installations for sale on the portal, and investors can find interesting projects boasting an environmentally friendly capital investment. In collaboration with specialized partners, Milk the Sun features services related to the entire life cycle of a photovoltaic installation. The company also presents large solar investments via closed marketplace Utility Scale Network.
www.milkthesun.com
About the Howaldt Energies Group
Howaldt Energies develops, installs and operates its own power plants, which are based on renewable energy. The company focuses on photovoltaic power plants for commercial and industrial roofs as well as district power plants for buildings belonging to housing associations. Its pool of power plants contains medium-sized units with outputs of between 500 kWp and 2 MWp, boasting a total megawatt output that extends into double digits. Howaldt Energies also strategically invests in companies dealing in activities that complement the core business. Kai Howaldt founded the company in 2009 and is now Managing Partner.
www.howaldt-energies.de/home-en.htm
About Gründerfonds Münsterland
With its fund investors NRW.BANK, the savings banks Sparkasse Münsterland-Ost and Westmünsterland, Kreissparkasse Steinfurt and a large number of renowned entrepreneurs from the German Münster area, the start-up fund company invests in young, fast growing companies from the region. Approximately seven million euros are available for investments within the next few years. Investment focuses include mechanical engineering, process and industrial engineering, new materials, IT/communication, life sciences, medical engineering, nanotechnology and biotechnology. Gründerfonds Münsterland is managed by eCAPITAL.
www.ecapital.de/en/
About eCAPITAL entrepreneurial Partners AG
eCAPITAL AG is an entrepreneur-lead venture capital company based in Münster, Germany. It has been actively supporting innovative entrepreneurs in forward-thinking industries since 1999. It focuses on fast growing companies in the sectors of renewable energy, renewable raw materials, resource-conserving processes, water technologies, process engineering/new materials and IT.
eCAPITAL currently manages five funds with a subscribed capital of over 120 million euros. It invests in companies in the later stage and early stage phases as well as in "small medium sized enterprises".
www.ecapital.de
Featured Product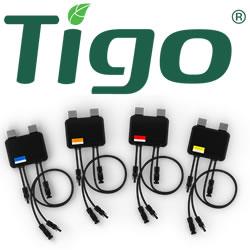 Tigo will announce the new product launch of the patented UHD-Core TS4-A (Advanced Retrofit/Add-on) Platform at SPI 2019. The new TS4-A-M (Monitoring) & TS4-A-S (Safety) units have improved lightweight hardware and lower labor costs to address a range of functions and budgets. The TS4-A-M allows module-level monitoring via Tigo's SMART Website & App. The TS4-A-S is UL-certified as a rapid shutdown solution for residential and C&I PV system. Both units join the Tigo's multivendor solution that works with almost any inverter and smart module in the global PV market. Contact sales@tigoenergy.com for pricing, shipping, and availability in Q4'19.