County Will Realize Savings from a Power Purchase Agreement for the Next 20 Years
San Jose, CA January 29, 2014

SunWize Technologies, a leader in delivering sustainable energy solutions to organizations worldwide, announced today that it completed the installation of two carport solar systems for Cochise County, Arizona municipal facilities. The system is designed to deliver a first year total of 890,000 kilowatt hours to the facilities.
The systems are the result of a partnership between SunWize, the engineering and prime construction contractor, and SunEdison, the projects' owner, operator, and financier. Cochise County agreed to purchase the electricity generated by the two systems under a Power Purchase Agreement, known in Arizona as a Solar Services Agreement.
"One of my goals has always been to establish solar energy at our county complexes. Not only will it lower or stabilize our energy costs, it is a clean way to produce energy and take advantage of our bountiful sunshine," said Ann English, Chairman Cochise County Board of Supervisor. "Cochise County will realize savings in energy costs each year for the next 20 years. This project could pave the way for potential future solar projects in Cochise County."
The Bisbee and Douglas projects qualified for an Arizona Public Service production-based incentive under its schools and government program. The incentive will be paid based on the actual performance of each system.
The Douglas solar system is expected to provide more than 60 percent of the electricity used at the Douglas Service Center, while the Bisbee Cochise County solar system is projected to provide more than 40 percent of the electricity used by its seven buildings.
"We are proud to be part of a project that will help Cochise County save money while also being environmentally conscious," said David Kaltsas, SunWize President and Chief Operating Officer.
SunWize completed both solar systems with assistance from Sierra Vista-based Wilson Electric. The projects were connected to the grid in late November 2013.
ABOUT SUNWIZE TECHNOLOGIES:
SunWize is solar project financier, EPC contractor, and sustainable energy product distributor. We began in 1992 and are based in San Jose, California. We provide Commercial, Public Sector, and Installation Customers with the resources they need to deliver sustainable energy projects on time and within budget. For more information, visit http://www.sunwize.com.
Featured Product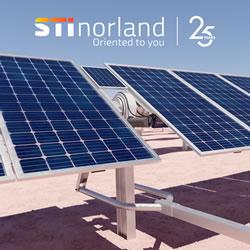 Developed in 2017, the STI-H250™ is consists of two linked torsion beams that rotate simultaneously following the sun's path. They are moved by just one motor, cutting supply and maintenance costs. STI-H250™ dual-row tracker includes backtracking mode to avoid shadowing between adjacent rows and stow function to protect the tracker in extreme wind conditions. For cleaning, vehicles can pass between trackers and each row can be placed in a different position.