CHP Virtual Power Plants could reduce network demand, according to energy services and technology group ENER-G and its research partners.
Virtual Power Plants could decarbonise electricity supplies, while reducing demand on the electricity network by harnessing power from small clusters of combined heat and power (CHP) systems. This could avoid the expense of building additional electrical generating capacity.

That's the conclusion of research undertaken by energy solutions business ENER-G in partnership with Advanced Digital Institute; Flexitricity; Smarter Grid Solutions and UK Power Networks.
Virtual Power Plants have been described as the 'internet of energy'. They use complex software and a central control system to tap into existing distributed generation capacity - linking demand and supply - to improve the wider performance of the electricity system..
The research consortium has undertaken extensive simulation and modelling, using real data from ENER-G CHP systems and UK Power Networks' London electricity network. This has demonstrated the scale of the opportunity for tapping into existing low carbon decentralised CHP supply network to relieve peaks in electrical demand as a more cost-efficient way of increasing network capacity and performance.
Additionally, the closure of baseload power stations and rising future demand for power - prompted by factors such as the move to electric cars, rising summer temperatures, and cold winters - is prompting a call for new solutions to increase the resilience of the national power supply.
"We face the twin challenges of improving power resilience, while also decarbonising supplies", said Chris Marsland, Technical Director for ENER-G Combined Power Ltd. "Simply burying more copper in the ground and building additional large power plants to expand the existing system is unsustainable - both environmentally and from a cost point of view. But Active Virtual Power Plants - using clusters of highly energy efficient CHP units that communicate via a decentralised smart-grid - can provide the low carbon, cost effective answer to these challenges."
The latest Department for Energy and Climate Change (DECC) statistics for 2011 to 2012 show that UK CHP capacity is 6.1GW and meets 6.4% of the UK's total electricity needs. The CHP driven Virtual Power Plant would link this plentiful CHP generating capacity to the distribution network operator (DNO) network. This could work by allowing dense CHP clusters in urban areas to be built into a technical commercial system that would respond to pricing/demand signals from the network by exporting power.
The initial feasibility study has been funded by the Technology Strategy Board, the UK's innovation agency. The next research phase is to trial the implementation of an Active CHP Virtual Power Plant and volunteer sites are currently being sought.
It is also necessary to evaluate options for market exploitation - taking into account the complex relationships between distribution companies, transmission companies, regulators, aggregators, CHP operators and stakeholders, and the incentives and regulation required to move forward.
Initial modelling has shown that heat storage is highly beneficial in reducing the cost of CHP operation and in improving environmental performance. Further study would examine the potential for using district heating networks to utilise the full heating and cooling potential of CHP.
The consortium believes that Active CHP Virtual Power Plants would encourage the growth of the CHP industry. Pike Research has estimated that the global market for Virtual Power Plants could be worth $7.4 billion by 2015.
Chris Marsland added: "We are excited by the potential of Virtual Power Plants and the contribution it could make to improving the resilience of the UK electricity network. There is tremendous potential to export our UK know how to the rest of Europe and beyond."
Further Information: http://www.energ.co.uk/chp
Featured Product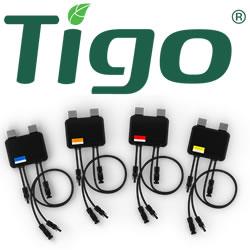 Tigo will announce the new product launch of the patented UHD-Core TS4-A (Advanced Retrofit/Add-on) Platform at SPI 2019. The new TS4-A-M (Monitoring) & TS4-A-S (Safety) units have improved lightweight hardware and lower labor costs to address a range of functions and budgets. The TS4-A-M allows module-level monitoring via Tigo's SMART Website & App. The TS4-A-S is UL-certified as a rapid shutdown solution for residential and C&I PV system. Both units join the Tigo's multivendor solution that works with almost any inverter and smart module in the global PV market. Contact sales@tigoenergy.com for pricing, shipping, and availability in Q4'19.