"Leading Change in the Energy Industry"
Dallas – January 31, 2014 -- The Principal Solar Institute, an online reference center and resource guide for the commercial and utility scale solar market, will host the Webinar "Leading Change in the Energy Industry," Tuesday, Feb. 11, 2014, 3 p.m. – 4 p.m. EST. Presented by retired Brig. Gen. Becky Halstead, the first female Commanding General in U.S. military history to lead at the strategic level in combat and author of "24/7: The First Person You Must Lead is YOU," the Webinar discusses how energy industry leaders can learn key strategies to help forge a path toward a stronger, more sustainable future.

"Effective energy leaders must be open to change in order to drive it, develop consensus among disparate groups and build bridges across every sector," says Halstead, who is an advisor to Principal Solar, Inc. (OTC Pink: PSWW), a publicly traded solar energy holding company executing a unique roll-up strategy to create The World's First Distributed Solar Utility TM. "Just as portfolio diversification is critical for risk-averse investors, diversification is essential for the nation's energy mix. This holds true for industry and corporate teams. A diverse team, offering varied ideas that can be shaped toward one goal, is a stronger and more effective force for successfully navigating uncertain terrain."
Halstead discusses how the energy industry is transitioning to a more sustainable model in which solar -- a viable, renewable energy source that complements natural gas and other energy sources -- has become an attractive option for traditional energy stakeholders.
Halstead adds, "Energy leaders who can lead the adoption of solar as a 'power partner' for generating cost-effective peak generation energy will play an important role in the interest of the entire energy community."
About the Principal Solar Institute
The Principal Solar Institute is an educational organization created by Principal Solar, Inc. (PSI; OTC Pink: PSWW), dedicated to the deployment of solar as a key component of the mainstream energy mix. PSI recognizes that access to clean, affordable energy is key to human health and prosperity, identifies the major barriers to large scale solar adoption and provides solutions. Visit http://www.principalsolarinstitute.org.
Featured Product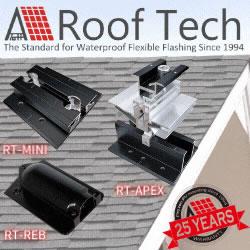 These ongoing webinars cover Roof Tech's background, product design (RT MINI and APEX), code and best practices. You will learn about a proven system that reduces installation time while keeping the integrity of the roofing system. This training will earn you one NABCEP Continuing Education Credit. The webinars are offered every Tuesday from 11 AM PDT to Noon during the months of April and May, 2020.