Pancho Ndebele, CEO at Emvelo will be participating at CSP Today South Africa 2014 (8-9 April, Cape Town).
Emvelo is one of the two 100 MW CSP bid winners in the third round of the REIPPPP. Emvelo's long term vision is to develop and deploy a pipeline of CSP Projects at Karoshoek Solar Valley with is strategic partners and those investors and funders interested in CSP. The Karoshoek Solar Valley site has the potential to accommodate 1GW of Solar Thermal Electricity Projects.

Mr. Ndebele will be joined by CEOs from Abengoa, ACWA Power and ACS Cobra amongst others, who will discuss the best strategy to meet government procurement targets and crucial lessons learned to execute proven best practices in the development cycle.
Emvelo has interests in the development, ownership, operation and maintenance of both utility scale concentrating solar thermal power plants and solar energy services for homes and businesses. It has been at the forefront of Southern Africa's emerging clean energy sector, has provided input to the South African national policy discourse around renewable energy and was instrumental in founding the Southern Africa Solar Thermal and Electricity Association (SASTELA).
To find out more about the conference and opportunities to meet Emvelo, Abengoa, ACWA Power or ACS Cobra click here: http://goo.gl/GVd0Uk
Featured Product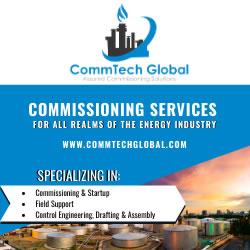 CommTech Global Solutions, LLC, provides professional and reliable commissioning services to customers in all realms of the energy industry. We blend our skills in engineering and technology with innovative business models, offering a complete range of services to assist you for a successful and in compliance operational startup. Consolidation of all our service domains gives our clients a comprehensive set of expertise and far-reaching experience on each project.