In a recent interview with PV Insider, John Cuneen Executive Director at Oman's Authority for Electricity Regulation disclosed that the 303kW solar pilot installation is set to pave the way for larger-scale solar projects in the sultanate.
The US company Astonfield Renewables, in partnership with the Bahwan Engineering Group will be installing 151.5kW of thin film PV modules and 151.5 kW poly-crystalline to provide much-needed comparative information to the government on efficiency and performance.

Whilst the project is only small, it has signalled the way for larger projects at sites originally planned several years ago. What's more, a large amount of the regulation and policy conditions to support solar is now in place, and this is one of 50 installations to be developed and constructed in the coming 4 years.
Until recently Omani residents had benefitted from relatively low electricity prices due to government subsidies. Because of this solar was not seen as economically competitive. However, in 2013 the government adjusted the price of diesel- the main fuel and electricity source to the market price.
However solar also has its unique advantages. Rural and remote electricity generation represents 3% of the total electricity market and there is the potential to lower costs and emissions through system hybridisation. A solar solution without backup isn't feasible where there isn't central grid access, but with the high rates of GHI, the need for diesel is reduced.
Oman isn't the only country in the region to subsidise electricity prices in the region. The total cost of subsidies on internal consumption is, according to the International Monetary Fund equivalent to a value of $236.7 billion dollars per year. This subsidisation of a commodity valued highly as an export such as crude oil or gas is perhaps the primary driver for the development of solar in many countries in the region.
At MENASOL 2014 (6-7 May, Dubai) the leading authorities and companies looking at module performance will be sharing their results, so that governments, organisations and EPC companies can choose the best performing technology for their sites. Masdar Institute, Green Gulf Qatar, Solar Frontier, DuPont Photovoltaic solutions.
For more information visit: http://goo.gl/Qv2XJ9
Featured Product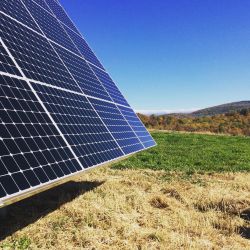 Designed and manufactured in the U.S., the AllEarth Solar Tracker is a complete grid-tied, dual-axis solar electric system that produces up to 45% more electricity than fixed systems. The tracker uses GPS and wireless technology to follow the sun throughout the day for optimal energy production. It has an industry-leading 10 year warranty and 120 mph wind rating, superior snow shedding, and automatic high wind protection. Its simple, durable design and complete system pallet simplifies costly procurement and installation time. Contact us about becoming a dealer partner or purchasing an AllEarth Solar Tracker.